Music Classes Adapt to Changes Brought on By Pandemic
Baritone, violin, clarinet, and tuba. All of these instruments come to mind when thinking about the band and strings classes offered here at Benjamin. With the coronavirus pandemic still in effect, however, the band and strings sections are looking a lot different this year compared to years past. 
"We made the change away from wind instruments: flute, clarinet, saxophone, trumpet, trombone, etc. due to the aerosol transmission of the coronavirus," said Mr. Bruce Huber, the Middle School's band director. "Students who were previously playing a wind instrument have switched to either classical guitar or piano keyboard. In the lower school, students also had the choice of selecting baritone ukulele," he said. 
Another alteration Huber had to make was the curriculum. "Making these changes to the program was challenging due to the absence of a published curriculum for just such a program," said Huber. "Combining materials from many sources, I created a new curriculum for the program."
Even though the band program now looks drastically different, Mr. Huber hasn't missed a beat. 
"I love teaching music no matter what instruments are in the band. My first two instruments are guitar and piano, so this is great fun for me to focus on these two. I started studying guitar when I was 10, and I got my first piano when I was 15."
For some of the students, the changes have been challenging.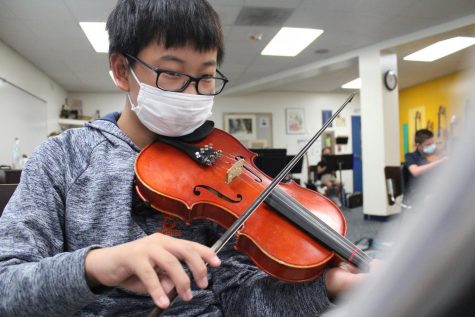 "I am getting to learn the keyboard piano this year," said seventh-grader London Allen, one of the many students who had to switch instruments. "It is hard for me because I do not have much experience with the piano. I miss playing my old instrument, the clarinet, because of all of the fingering I have remembered over the years." 
For seventh-grader Sebastian Scaperatto, an electric bass player, not much has changed in terms of the music. "This year, band has been about the same for me compared to other years because I am playing the same instrument," he said. 
However, the precautions undertaken due to the pandemic have not been welcomed. "There is a new curriculum, and we have to sit six feet apart," he said. "We won't be able to have an in-person concert this year because of COVID-19, which is kind of a bummer." 
"Performances are going to be quite different this year," confirmed Huber. "We will be having virtual concerts and videos of classroom performances for our community to enjoy. We are planning to share our musical work during the months of April and May of this year."
Not only were live performances considered unsafe by the administration, but so was singing. As a result, the musical theater class, a staple of the Middle School, wasn't even offered this year.
Another issue has been how to keep the remote students involved, but Huber feels he has done a good job in that regard. 
"I always make sure that the online kids are learning the same material and skills as the in-class students'" he said. "The virtual students have either a classical guitar or a piano or a keyboard at home for them to study and practice."
The band ensembles have also changed this year. 
"Also, this year we are not having Honor Band, sadly," said Huber, referring to the ensemble composed of fifth and sixth graders for which students have to audition. "I am teaching four grade six band classes and the Middle School Performance Ensemble, which is a combination of seventh and eighth-graders," he said. 
Conversely, for middle school music teacher Mr. Andrew Winters, his strings program has remained relatively unchanged. "The [major change was that the] two sixth-grade classes weren't able to be combined this year because of COVID-19," he said. "Strings has been the same except we have to be six feet apart, wearing our masks, and there will also be no performances, but we will do some video projects."
Similar to the band sections, the strings classes are doing the best they can to keep the students who are remote and in-person connected. 
"Because of the time lag, the virtual students play with the class muted," said Winters. "I call on them individually to play parts of the pieces and to do their quizzes."
While the coronavirus has made the music classes a bit more difficult this year, the students are still enjoying their time in band and strings.
"Even though band is different this year, Mr. Huber is making it fun because he gives us lots of new songs and lets us do solos," said Allen. 
"We play all together when we play pieces just like last year," said sixth-grade strings student Cacki Pearsall. "This year we get to play a lot more solos which is fun, too."
View Comments (1)