Nowadays, people wear varying styles of clothing, whether that be comfort or aesthetic-wise. But from where are these modern garments derived? In 1858, the iconic trend that is haute couture began via the French. Haute couture became the epitome of high fashion, hence the meaning of the phrase. This vogue eventually made its way to the US through upper-class, wealthy American women, who were regular clients of Paris boutiques. The style consisted mainly of frocks with leg-o-mutton sleeves, cinched waists and long, flowy skirts. Money was a huge part of one's social status back then, as it is now, so the more frilly and expensive the dress, the more appealing it was to a lady's image. Until the 1970s, this style of clothing prevailed.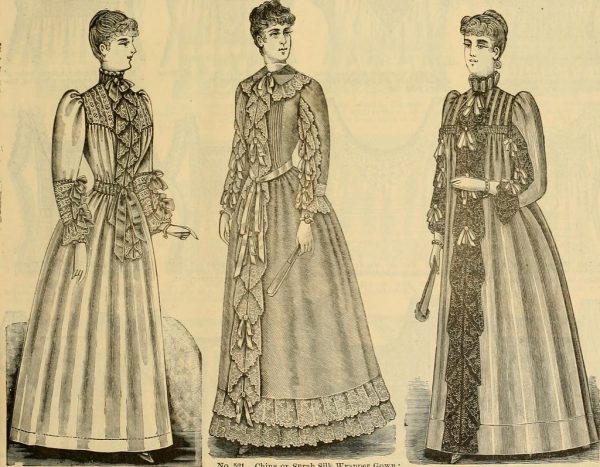 But soon, women began to get tired of the frilly and uncomfortable qualities of it, longing to feel more free and comfortable in their clothes. Ladies needed clothing that was functional for their work and homelife, not extravagantly hindering ballroom gowns. Household names like Halston and Anne Klein made their gape into the industry by introducing more modern and unconventional outfits. Halston's brand liberated women of their constraining garments by creating simple clothes using luxurious materials. Their creations fit the needs of women almost too perfectly. American women began sporting them with a sense of pride, but the French had yet to grow out of their love for haute-couture. In 1973, Eleanor Lambert organized the Battle of Versailles, a simple charity event which would later be regarded as one of fashion's most legendary moments. Lambert invited American designers Bill Blass, Anne Klein, Oscar de la Renta, Halston and Stephen Burrows to face off five French foils. The French, revered gods of style they were, viewed their competition as a joke. The Americans were snubbed by their opponents, barely provided with substantial time or space to rehearse. But they wouldn't be brought down that easily.
On November 28, 1973, the Battle of Versailles was held. America's models emerged wearing clothing in a style of prêt-à-porter. Their designs took the world by storm, exemplifying the ability women had to be elegant and chic while wearing something comfortable and flexible. America's performance in the show empowered women by presenting sophisticated yet convenient and innovative clothing. It further proved that ladies didn't have to be adorned in ruffles in order to look stylish. The bombshell that was America's sportswear became a huge building block for the development of women's apparel.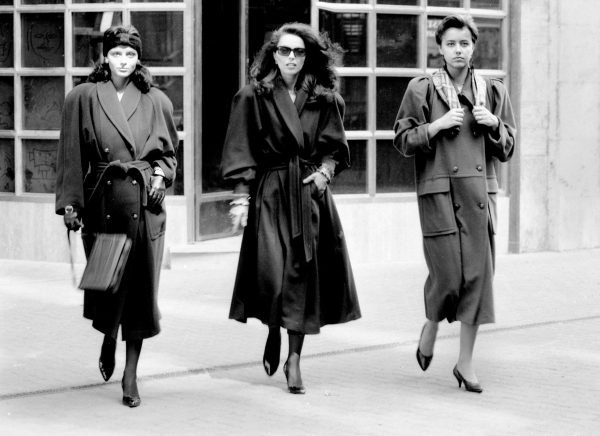 In the 1980s, the trend of sportswear carried over, as well as the newly introduced power dressing. As women's position in workplaces and society began to change, they used bold fashion to present themselves as respectable figures. Since they were entering an area of work traditionally controlled by men, it was important to be taken seriously by subordinates. This new fashion consisted of shoulder-padded jackets, huge hair-dos, striking accessories and vivid colors. The most popular rendition of this was the power suit, worn by women to empower themselves, hence the name. It also became of chief importance to women that their clothing be of a designer brand. Women's status was important to them, and their clothing emitted confidence which allowed them to command in the office. Different designers put their own twists into their clothing, giving each individual brand its own signature personality. The "preppy" trend was also born here when classic menswear was shaped into tastefully casual wear for women. The term "preppy" is derived from preparatory, as in the elite preparatory schools. These modes persevered till the early 1990s, when power suits began to develop into minimalism.
Sportswear continued to dominate with leggings, biker shorts and oversized sweatshirts, while the punk trend of the 1960s and 70s was also reintroduced through mini-skirts and
flares. The desire for vintage clothing also grew with the birth of the grunge style, inciting more second-hand stores to open. Grunge usually consisted of baggy jeans, flannel-pattern shirts, graphic tees and Doc Marten boots. This spunky, androgynous style first began in the 80s, but it only just caught on in the 90s, courtesy of Kurt Cobain, the lead guitarist of the popular band Nirvana. His generally unkempt yet unique and stylish look appealed to young people, especially because of his musical influence. Not only was this sort of fashion associated with the grunge genre, but certain music artists, including Nirvana, applied to the grunge aesthetic too. Grunge was also a significant variant to all the vogues of previous years, presenting a more informal look in comparison to its refined predecessors. Despite the focus of this article being women's fashion, it is also worth mentioning that men also sported grunge-wear. The baggy qualities of the clothes drew attention away from one's figure and looked good on people of both sex. Grunge was like a rebellious statement against the ethics of fashion and gave young people a way to express themselves in a way which went against the norm. It was a kicky breakthrough for fashion that incited the development of casualwear further.
In the 2000s, fashion only continued to progress with the influence of technology and Y2K fashion. While the Y2K trend has made an appearance in today's fashion, it was actually much different than the way it's portrayed today. Y2K was like the trademark of the 2000s in a way, as the anagram means 'Year 2000.' Traditional Y2K fashion usually consisted of mesh tops, box-pleated or leather skirts, glittery shoes and shiny pants. The style had many different variants, some outfits meant to be worn daily while others were reserved for going out. Another big component of Y2K was denim, which made its own individual breakthrough in the early 2000s. Denim became a staple for both men and women, further influencing the recurring trend of leisurewear. The style was recently revived amongst teenagers, but it's obviously portrayed in a very different way than it was back then. This does, however, prove 2000s fashion built on the development of clothing just like all other preceding vogues.
Fashion has continued to evolve since then to what one wears today. New, contemporary fashion exclusive to the current time is mixed in with elements of trends from previous decades. But there is plenty more time for fashion to develop even further. So, what are your predictions for the fashion of our future?