We're All In this Together
Middle School acting takes the stage for their yearly musical!
   The Benjamin School prides itself on guiding students through artistic passions, offering many opportunities to participate in electives. This year, the Middle school actors put on a stage production of the Disney movie High School Musical.
  One of the company's most successful franchises, the film High School Musical premiered in 2006 and became an instant hit. The then-young actors, including Zac Efron and Vanessa Hudgens, rocketed into stardom upon the movie's release. In 2007, Disney released High School Musical 2, and in 2008, High School Musical 3.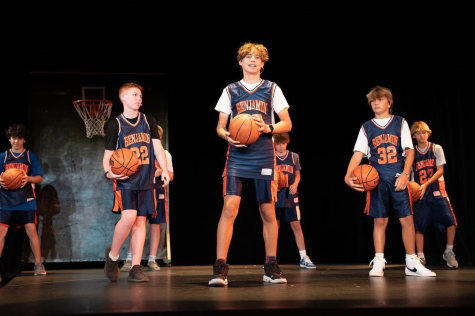 Since the trilogy ended, spinoffs such as Sharpay's Fabulous Adventure (2011) and High School Musical: The Musical: The Series (2019-present) have been released. In 2008, the original movie was adapted into a stage play, touring around the United States, London's West End, and now the Benjamin Middle School.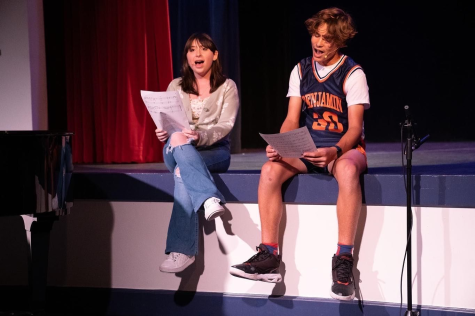 Troy Bolton is East High's basketball team captain. He lives, eats, and breathes one thing: basketball. While at a New Year's Eve party, he sings with a girl named Gabriella Montez and sparks instantly fly. By some fate in the universe, Gabriella happens to be transferring to East High after winter break. The two meet again at school and plan to audition for the musical. However, the pair's conflicting friend groups deter them away from each other. After many trials and tribulations, Troy and Gabriella headlinethe school show, proving everyone wrong that you can only have one hobby.
  Mrs. Ramirez's troupe of incredible actors put their heart and soul into this lovely production of a well-known classic. Seventh grader Misha Liberzon and eighth grader Ava Shawe shined in the spotlight as Troy and Gabriella.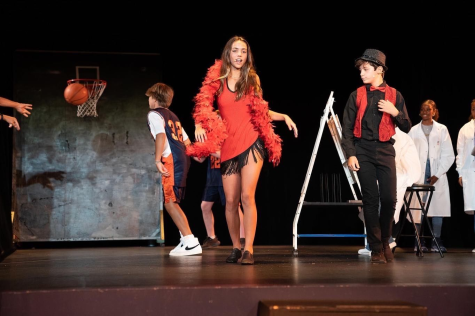 East High's resident drama queen, Sharpay, played by Feagin Kaminski, and her brother Ryan, played by Harrison Poulakakos, charmed the audience with their fun musical numbers. Students and teachers alike could clearly see the chemistry within this incredible cast! Liberzon comments, "Some people take it as a job, but I think it is more fun. I'd rather spend my days doing acting than sitting does nothing."
  In case you missed the show, you can watch it here! Congratulations to the entire cast and crew of High School Musical on a job well done!
Leave a Comment