Young Actor, Big Dreams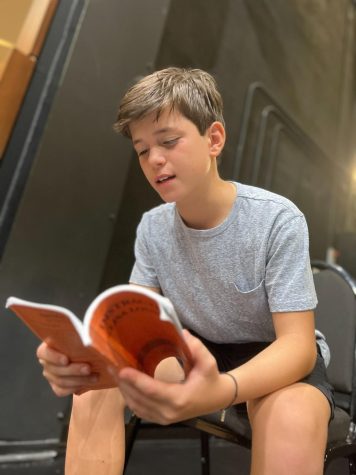 The Benjamin Upper School is notorious for its drama program. Last year, the program's play and the musical won the Cappie Award for Best High School Musical. Following last year's success, rehearsals started for this year's play.
Never before has a Middle or Lower School student been a part of an Upper School play, but a seventh grader is changing that. Harrison Poulakakos has been acting since a very young age, making his stage debut when he was five. Poulakakos has joined the cast of six, which includes all high school students. Director of Theatre, Mr. Jason Peck, says, "Harrison participated in my Broadway Bound summer camp a couple of years ago. I was immediately drawn to his talent, commitment, and storytelling impulses. He didn't audition, I just asked him if he would join the cast."
The actors are performing Distracted by Lisa Loomer, a play that shows two parents searching for a diagnosis for their son. Poulakakos is playing the role of Jesse Cara, a child who supposedly has ADD (Attention Deficit Disorder), which is now called ADHD (Attention Deficit Hyperactivity Disorder). Jesse has trouble controlling his emotions and actions. Harrison states, "I go to every rehearsal. I just listen to what Mr. Peck says; he's the best director I could ask for. I just follow his lead."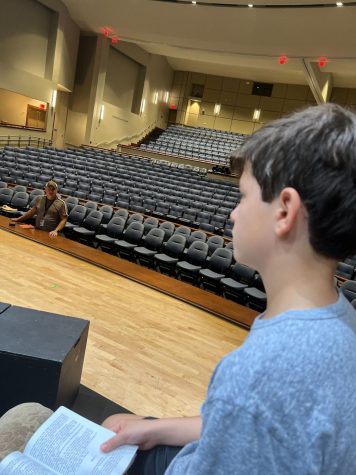 Having a younger character be portrayed by an actor the same age is a great story-telling device. This also adds more diversity to the drama program. Mr. Peck adds, "The characters are adults. I thought it would be fun to have a marked age difference between the one character who is meant to be a kid and all the other characters. I am always seeking and striving for ways to bring our theatrical communities together. With the exception of the Variety Show, there is little chance for our divisions to come together. I'm hoping for other future collaborative experiences between the Middle and Upper School, including this year's musical which is yet to be named." 
Be sure to go see Distracted on Friday, November 11 at Benjamin Hall!
Leave a Comment