Is It Time to Drop Mandatory Sports in the Middle School?
A core value in the Benjamin School since 1960 is not only a strong academic program, but a strong athletics program. To uphold this legacy, middle school students are required to participate in one sport per school year. The Benjamin Middle School is not the only school that mandates sports, but such schools are few and far between in South Florida. However, Upper School students don't have this requirement, and haven't had it for several years. 
"[The requirement was dissolved in the Upper School] before I became Athletic Director, so that means there has not been a mandatory sports credit requirement [for at least 10 years]," said Upper School Athletic Director Ryan Smith, father of TBS students Emeline '22, Maggie '24, and Ryan '26.
According to Middle School Athletic Director Mr. Toby Harbeck, the Upper School stopped mandating sports because it couldn't accommodate all of the student-athletes. 
"High school had stopped mandating sports because when every student had to play a sport, they had too many people on teams because people played just to get credit," said Harbeck. "If you do not do a sport in the Upper School, you are still required to do physical education." 
However, that physical education (PE) requirement is only one credit, meaning students only need to take PE for one semester during their four years at the Upper School. As it's stated on pages 15 and 16 in the 2019-20 Upper School Student and Parent Handbook, "The Benjamin School acknowledges the importance of physical activity as part of the development of the whole child. To better meet the varied interests and skills of our students, the Upper School's Physical Education requirement may be satisfied by a student participating in any school and FHSAA-sanctioned interscholastic sport or on the dance team. One full season of an interscholastic sport – on the varsity or junior varsity level – will equal one semester of PE."
So why are students required to play a sport at the middle school level when they are required to take two full years of PE in sixth and seventh grades? 
"It is more age-appropriate to mandate sports in middle school due to the immense amount of brain development they are experiencing," said Head of Middle School Mr. Charles Hagy. "The real goal is to push students outside of their comfort zone. Middle school is when kids are learning the habits of life."
Hagy also believes there are other benefits inherent in playing sports at school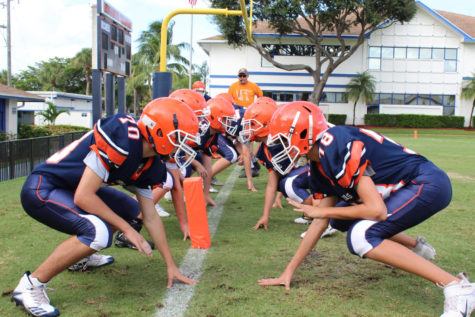 "It lets students learn how to be a contributing member of a team, how to get into competition when it counts, and [how to] contribute to the best of your ability," he said. "All of these traits were very important to Mr. Benjamin." 
For Hagy, the sports requirement is very similar to the fine arts or world language requirement in the Middle School.
"For example, in sixth grade, you are required to do fine arts and a sport. This allows one to be a great musician as well as being good at sports," said Hagy. "You also have to take a world language. This makes everyone get out of their comfort zone and try new things."
Harbeck also sees the benefits of participating in sports in middle school.
"I do [believe that sports should be mandatory in middle school] because at the ages of eleven through fourteen-years-old, your body is still growing and you need to expose your body to more activity," said Harbeck.
Because sports are such a part of the culture at TBS, some parents aren't even aware they are required.
"I thought that schoolwide you can do an extracurricular activity such as the play and not have to do a sport,"  said Director of Transportation Frederick German, who is the Upper School wrestling coach and father of two TBS students, Zachary '22 and Colby '23.  "I didn't know that [sports] were still mandatory in the Middle School."
While this was a surprise to Mr. German, he still believes that playing sports in middle school is beneficial, especially for those students who can play at the junior varsity or varsity level.
"If you have the opportunity in eighth grade to play JV, you're going to be better off than if you went to play eighth-grade football just because the competition is harder, the techniques are different, and you're actually learning what [the Upper School] is expecting you to be at the varsity level."   
However, sports aren't the only extracurricular requirement in Middle School. "There is a two activity requirement in middle school," said Hagy. "One is a sport, and the other is your club," said Hagy.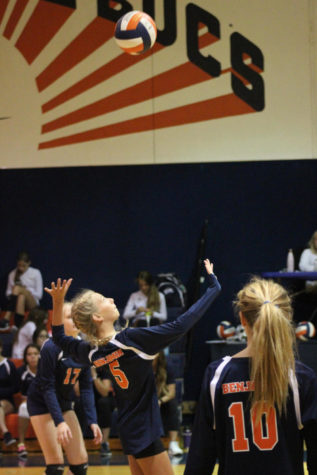 This leads to another issue. Clubs currently meet during the school day, but are only scheduled to meet nine times in total over the course of this year. Getting rid of the sports requirement would allow clubs to meet after school, resulting in more club time for students. In addition, it would allow students to get a jump start on homework. Plus, many middle school teachers are required to coach a TBS sport, and, while they are paid to do so, taking away that mandate would free up the teachers' time as well.
Some teachers, though, welcome sports because it allows them to grow closer to their students. 
  "Although [not mandating sports] would help me finish my work faster, It would not let me have the chance to get to know students better," said the History Department Chair Mrs. Anne Franzen, who is also the middle school girls' assistant soccer coach. "Sports give me the chance to know sixth and seventh graders before they reach eighth-grade."
However, the issue for students is time. While world language and fine arts classes take place during the academic school day, sports comes after school. "I do not believe sports should be mandatory in Middle School," said eighth grader Matthew Brodner. "Some people have a lot of other activities and homework to focus on. Sports give me less time to focus on my homework." 
Eighth-grader Haylie Fine also agrees with lifting the sports requirement in middle school.  
"People may be playing other sports outside of school [not for TBS] and are preoccupied with that," said Fine. "It adds unnecessary stress to students' lives."
But, the Middle School has tried to allow more time for students' homework by implementing study halls during the school day. This year, there is a study hall every day in addition to the study halls built into the beginning of some sports' practice time. 
"For sports, we do study halls to give [students] a chance to study and see their teachers for help," said Hagy. "Academics always come first."
Though attending practice and getting all of one's work done seems daunting, some students support the mandated sports program.
"Yes, [lifting the sports requirement] could benefit with homework and doing non-athletic clubs after school, but sports teach you time management for the future and getting exercise is very important, so it just depends on your interests," said eighth grader Chloe Fong. "It's also a great way to make friends."
"If sports were not mandatory, I would still play them because that's what I love doing," said fellow eighth grader Daelan Pinsky. 
The Middle School will also give students sports credit for playing sports outside of school that TBS does not offer.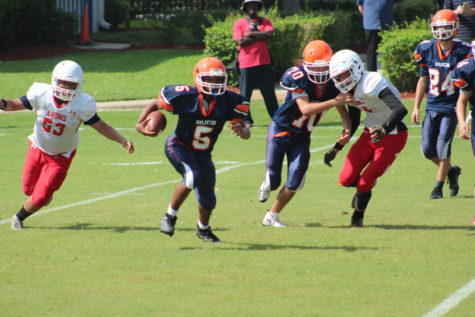 "Outside of the sports we offer, I still give sports credit to those who do horseback riding, Jiu-jitsu, and karate because we do not offer it here," said Harbeck. "I would not want to ruin a student's passion for a sport because we do not offer it, so that is why I do this." 
Since it's been at least 10 years since the Upper School dropped the sports mandate, it appears the Middle School is not prepared to follow suit anytime soon. Many of the middle school students enjoy playing on TBS teams, it offers an opportunity for teachers and students to bond outside of the classroom, and it allows for healthy physical and social activity. As a result, the sports requirement seems to be a part of the game plan for the foreseeable future.
View Comments (3)