Many NBA fans are jubilant for the 2023-2024 to tip-off on October 24, 2023. Many good teams in the NBA could be contending, such as the Milwaukee Bucks newly acquiring Damian Lillard or the Miami Heat coming off their loss in the NBA Finals last season.
Chicago Bulls
The Chicago Bulls are looking very good on paper. They have good depth in their roster and a lot of strong players. Some of their best players are Demar DeRozan, Zach Lavine, and Lonzo Ball. In the preseason, the Bulls have been doing poorly, but fans believe they will do better in the NBA season.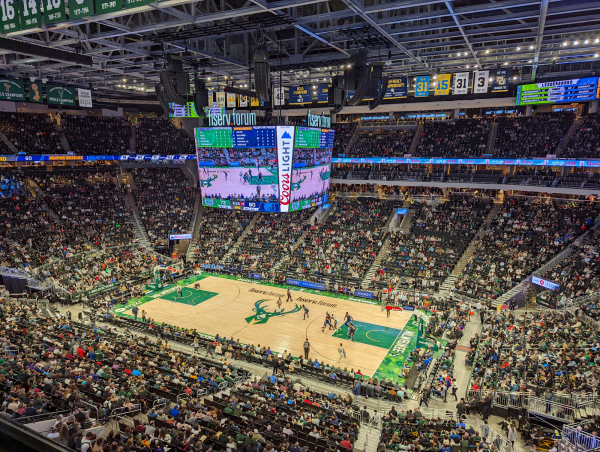 Miami Heat
The Miami Heat have been a powerful team in the preseason. They have won 6 of their last 8 games and are shooting the ball with a 45% percentage. They have a solid foundation team with one of their star players, Jimmy Butler. He is a solid player, and he is a lockdown defender who has excellent shot contest abilities. This team is the favorite of The Benjamin School, with 41% of students thinking they will win the NBA Finals.
Boston Celtics
The Boston Celtics are once again a powerful team. Their offense is elite, with their best player being Jayson Tatum. They also have
Kristaps Porziņģis, a 7 foot 2 Power Forward from Latvia. The Celtics also have good defense, with one of their players being Jrue Holiday, a three-time all-defensive player and a two-time all-star. Many fans have high hopes for this team, so let's see if the Celtics can perform well. 
Cleveland Cavaliers
This team is not very good. They have lost all three games in the pre-season, and they don't have a superstar player to help Donovan Mitchell. Fans have high expectations for Donovan, but I don't think the Cavs will perform well this season.
Many fans are excited to see the 2023/24 NBA season, and I am sure it will be great!
Playoff Predictions
Eastern Conference:
Play in tournament:
7 Seed Game:
(7) Chicago Bulls vs (8) Raptors – Bulls win 107-104
9 vs 10 seed game:
(9) Indiana Pacers vs (10) – Washington Wizards – Wizards win 113-96
8 Seed Game:
(7) Chicago Bulls vs (10) – Washington Wizards – Bulls win 125-100
First Round:
(1) Milwaukee Bucks vs (8) Chicago Bulls – Bucks in 4
(4) New York Knicks vs (5) Cleveland Cavaliers – Knicks in 6
(3) Boston Celtics vs (6) Philadelphia 76ers – Celtics in 7
(2) Miami Heat vs (7) Atlanta Hawks – Heat in 4
Eastern Conference Semi-Finals:
(1) Milwaukee Bucks vs (4) New York Knicks – Bucks in 4
(2) Miami Heat vs (3) Boston Celtics – Heat in 7 
Eastern Conference Finals:
(1) Milwaukee Bucks vs (2) Miami Heat – Bucks in 7
Western Conference:
Play in tournament:
7 Seed Game:
(7) Los Angeles Lakers vs (8) Minnesota Timberwolves – Lakers win 117-113
9 vs 10 seed game:
(9) New Orleans Pelicans vs (10) Oklahoma City Thunder – Pelicans win 123-100
8 Seed Game:
(7) Los Angeles Lakers vs (9) New Orleans Pelicans – Lakers win 100-97
First Round:
(1) Denver Nuggets vs (9) Los Angeles Lakers – Nuggets win in 5
(4) Memphis Grizzlies vs (5) LA Clippers – Grizzlies in 6 
(3) New Orleans Pelicans vs (6) Golden State Warriors – Pelicans in 7
(2) Phoenix Suns vs (7) Sacramento Kings – Suns in 4
(1) Denver Nuggets vs (4) Memphis Grizzlies –  Nuggets in 7
(3) New Orleans Pelicans vs (2) Phoenix Suns – Suns in 6
Western Conference Finals:
(1) Denver Nuggets vs (2) Phoenix Suns – Nuggets in 7
NBA Finals:
(1) Denver Nuggets vs (1) Milwaukee Bucks – Bucks in 7
Game 1: Denver Nuggets vs Milwaukee Bucks – Bucks win 123 – 113
Game 2: Denver Nuggets vs Milwaukee Bucks – Nuggets win 134 – 130 OT
Game 3: Denver Nuggets vs Milwaukee Bucks – Bucks win 113-111
Game 4: Denver Nuggets vs Milwaukee Bucks – Bucks Win 123 – 100
Game 5: Denver Nuggets vs Milwaukee Bucks – Nuggets win 104-97
Game 6: Denver Nuggets vs Milwaukee Bucks – Nuggets win 112-100
Game 7: Denver Nuggets vs Milwaukee Bucks – Damian Lillard hits the game-winner with one second left. 123-120