Family Concept Propels Football Team to Undefeated Season
The 2018 seventh and the eighth-grade football team will be remembered for a long time.
Through lots of vigorous training and plenty of inspiration by Head Coach Mr. Gregory Keller, the team has accomplished something that has not happened in nine years: it went undefeated, winning seven straight games.
Throughout the season, Head Coach Gregory Keller taught the football players that they can learn valuable life lessons from football, such as working as a team and the most important part: family. By "family," he means that all of the football players are part of a family and they should support each other no matter what.
"2009 was the last time we were undefeated," said Keller. "A number of things led us to be undefeated [this year]. First of all, having good athletes. You can have the best coaching in the world, but if you don't have the athletes, you're already behind. You [also] have to have an attitude of family and not have a bunch of individuals," he said. "I have seen players drag teams down because they think it's all about themselves. If each person takes pride in their position and doing their best and realizing that this is a group thing, they will succeed."
Keller had help from a dedicated coaching staff that consisted of assistant coaches Mr. Pervis Patrick,  Mr. Jimmy Dean, Mr. Robert Bayless, and Mr. Scott Yurchuck.
"We definitely had one of the best coaching staffs since I have been here," said Keller. That played a big role as well."
One of the things Keller was most proud of was not only the way his student-athletes played for each other, but how the TBS community came together in support of the team.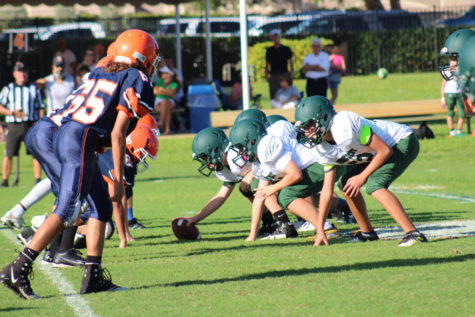 "If you looked up in the bleachers, I think we as a football team did a good job of bringing people together," said Keller. "You can see a person in a suit that is sitting next to a guy who looks like they just rolled out of a garbage bin, sitting next to a man who is painted up," said Keller. "If you went out in society, you wouldn't see these people hanging out more than likely, but a sporting event is, I think, the one time in life in America where you have people of all different nationalities, all different backgrounds, gay and straight, black and white, religious and not religious, you name it, [come together]. That's something I really enjoyed."
According to Keller, no matter what situation you are in, you can learn valuable life lessons.
"I wanted to teach my players good life lessons because that's what makes you a good son, a good father, a good husband, a good person in your business relations at work, and a good person in the community," he said. "We were successful on the scoreboard, but it is really going to come down to how are you doing as a person in the community. That's how you're going to really find out if we were successful or not."
The family aspect was not lost on the players. Offensive lineman Julian Janin believes that teamwork was an integral part of the team's success.
"I would define our team as 'together' because when we played, we were all as one team," he said. "My favorite part of this season was playing in the games. I liked the coaching this year because of all the different point of views from the different coaches."
Eighth-grade running back Henry Bennett was one of the star players on the football team, scoring several touchdowns over the course of the season. He attributes the team's success to the coaching.
"The coaches made us work hard and gave us good strategies," he said. "Our team was powerful because of our good defensive plays and good runs. "My favorite part of this season was when we went against the most challenging team, King's Academy, and won [20-6]."
Family can mean a lot of things, but when it comes to building a team, it may be the most important thing of all. However, there wasn't just a family of players on the field, but a family of supporters that cheered on the Bucs each and every game. That encouragement, amongst the TBS community, student-athletes, and coaches, played a big part in this unforgettable, undefeated season.
Leave a Comment