Pouges For Life
Outer Banks Season 3 Preview
Outer Banks paradise on Earth. It's been two years since Outer Banks' latest episodes came out, and the wait is almost over. Netflix announced the third season on January 2. WARNING: This article may contain spoilers!
Outer Banks' first two seasons garnered mass success. Netflix released a teaser in late 2022 and the official trailer on February 2. Now, fans await impatiently for February 23, when the third season will premiere. 
Watched by many, the hit series made its on-screen debut in April 2020. It became a worldwide sensation, partly due to Netflix's COVID-19 boom. Seventh grader, Soleil Demers, says, "I started watching [OBX] in fifth grade, so about two years ago." Based in the fictional town of Outer Banks, North Carolina, the show's plot follows five young teens on their quest for ancient treasure. As the protagonist, John B. Rutledge, said, "The Outer Banks, Paradise on Earth." Those on the island branch into two classes: the Pouges, the working class, and the Kooks, the spoiled, rich people. John. B's father went missing but left a series of clues. Together with his crew, Kie, J.J, Pope, and now the Kook, Sarah Cameron, John B. embarks on a harrowing mission to find the gold and get rich. But, the wealthiest man on the Outer Banks, Ward Cameron, possesses the same goal. This quest flows into season two, but will it end in season three?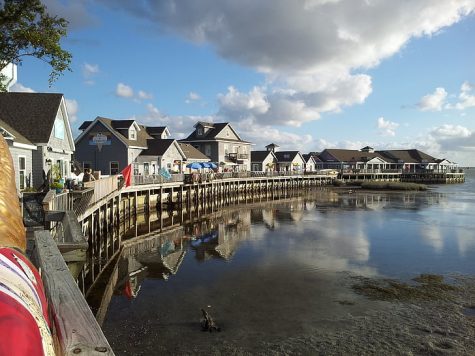 While speculations are yet to be confirmed, the world wide web has conspiracy theories on what will happen next. For starters, the finale of season two implies that John B's lost father is alive and well even after being stranded on an island with no food or supplies. Is he alive? Will he be found? The trailer points to yes.
Another mind-wrangling topic Twitter has a thirst for is ships. OBX already features a few romantic involvements, most notably that of John B. and Sarah Cameron. But fans are worried that the couple may split because of the actors who play them. Chase Stocks and Madeline Cline developed an off-screen relationship, which went public shortly after the show's release. They have since called it quits, but will their characters stay together? 
The second romantic rumor is that Kie and J.J. will start dating in season three. Sparks flew last season after Kie and Pope's brief romance sizzled away. While nothing went down between the two, it was as clear as day that something was bound to happen, especially after Kie saved J.J.'s life in the finale. Plus, the trailer gave fans a glimpse of the pair in season three. Eighth-grader Eryn Miller comments, "I enjoyed seeing them have a close friendship in the first two seasons, but I think they'll get together now." 
Character additions are commonly seen as the show progresses. This creates a constant shift in who the media dubs OBX's best character. Since the release of season two, the Bahamian money smuggler, Cleo, has been introduced. There is also much controversy about Sarah Cameron's development throughout the show. Many on social media agree that she has changed for the better, rebelling against her family and becoming a Pouge, but others say Sarah will always be a Kook at heart. Bridget Rooney, a sixth grader, agrees with the first opinion. "I think she [Sarah Cameron] is a great character because she overcomes many difficulties with her family," says Rooney.
The crew for OBX is planning on making four or five seasons of this show. Stream Outer Banks season three on February 23 only on Netflix!
Leave a Comment