Record Number of Participants Turn Out for Friendship Games
On Friday, January 29, all eighth graders of The Benjamin Middle School trekked to the Upper School for "The Friendship Games." An annual eighth-grade community service initiative, The Friendship Games invites students with disabilities from schools all over the county to participate in multiple physical events. From running track to playing croquet to competing in the long jump, the students enjoy the fun, games, and weather with the help of TBS students who help officiate events, run face paint booths, give out medals, and encourage the participants.
This year there was a total of 560 people – a record number – including all of the participants, TBS students, teachers, and helpers/caregivers out on the track and Theofilos Field at The Benjamin Upper School. The tradition of the Friendship Games goes back 11 years. It all started with a single TBS parent, Mrs. Pamela Malone. "Mrs. Malone is wonderful, she was the inspiration behind all of this," said eighth-grade English Department Chair Mrs. Kathleen Devine. "She and I got together and went to the administration with a proposal to start the Friendship Games here, and it has gone strong ever since."
All of the hard work and thorough planning paid off. The students had their pick of which activities they wanted to participate in, and the TBS eighth graders had as much fun as their student guests. "My favorite part of the Friendship Games was the relay race because it was really fun, and my two teammates did not care if we won or if we lost, they only cared about having fun, which they did," commented eighth grader Joey Berg.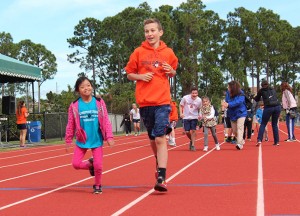 For many eighth graders, they enjoyed seeing the participants having a good time. "My favorite part of The Friendship Games was to see how excited the kids were…even if they only got 5 inches on the long jump," added eighth grader Ashley Cousin.
The fun and games which overjoyed participants for hours will continue to be implanted in TBS eighth grader's memories, as this day was like no other. "It was such a fun and memorable experience and nothing beats making someone so happy and filled with joy like we did," said eighth grader and Student Council president Nicolas Lama. "It was truly inspirationl and I really would love to do it again."
The entire grade's sentiments could be summed up by eighth grader Mitch Faloona: "I would have volunteered to help with the event even if it wasn't required because I felt privileged to help the kids out," explained Faloona. "You just feel like you have done something good for your community, and it is a great feeling," The games became less of a community service project and more like a party that had everyone smiling by the end of the day.
TBS eighth graders bonded with the visiting students in a special way. Eighth graders enthusiastically participated in this day of community service, and enjoyed themselves and the special people around them. It was just as Mr. and Mrs. Benjamin would have wanted it to be – their students contributing to bettering the community and enjoying themselves while doing so.
Leave a Comment