The First Ever Door Decoration Contest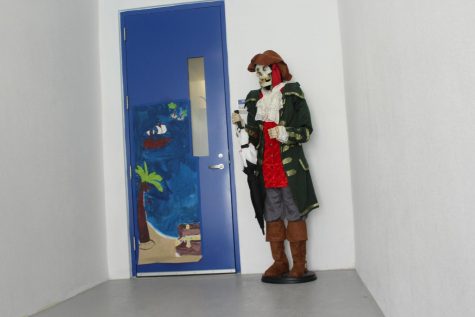 This year is off to an arrr-tsy start. This Homecoming project was unlike any other TBS has done in the past. The project was for each advisory to create a pirate-themed decoration to cover their door. In each section of the middle school (Ex: quad, firehouse, fine arts), whoever was voted to have the best and most creative door won in their section. 
Dean of Academics, Stephanie Oster, came up with the idea for the project. "I think spirit week is so fun, and we have so many creative people and so many creative ideas, so we just wanted to see what people would come up with as far as how we show our school spirit," said Oster. 
She made very few rules to let advisories be as creative as possible. "We only had a few guidelines; be as creative as possible and show us what you have. I'm super excited to see what people come up with."
The contest did not only raise school spirit but also helped students get closer with their advisories. "For our door, we did a treasure map theme and filled the door with islands. We all had different jobs. Some of us worked on the map, two made the drawing, and me and another one of my friends made the treasure box." said sixth-grader Isabella Anthon. "Our advisor tried not to help to see if we could do it on our own, so while we made our decoration, we all got a glimpse of each other's skillsets and what we are really good at. Seeing how we worked together as a team made the project fun and exciting," she said.
Eighth-grader Brady Davis, like Anthon, also found the project captivating and thrilling. "In our advisory, we did a drawing of a pirate ship on our door. Most of the supplies we used were already there, so we didn't really have to buy anything. We all worked together to draw the picture on the door. It took a lot of work, and we had to concentrate a lot, but the project itself was super fun," said Davis
Along with many other advisors, Middle School Mathematics Teacher, Lindsey Tanona, did not work on the project, but let their advisory do it themselves. "I left it up to the students to see what they would come up with. Even though I am very competitive and want to win, I am more excited to see all the other doors around the campus."
Mr. Ginnetty also left the project up to his students, but he still enjoyed the experience with his advisory. "I am personally not a competitive person, I consider myself a pacifist above all, but I do enjoy a healthy competition. Also, there's so much great competition this year, but overall we had a great time decorating the door."
The winners of the contest were the York, Ponchock, Winters, Inguagiato, and Barker advisories. This project/contest was a huge success and helped bring advisories closer together. It is just the starrr-t of the year, yet we have already shown so much creativity and school spirit through this fun project.
Leave a Comment