Claire Dinh Wins Middle School Spelling Bee
Annual Spelling Bee Has Audience at the Edge of Their Seats
On February 18, 2020, the Middle School assembled in the Barker Performing Arts Center to watch eighth grader Claire Dinh win this year's annual spelling bee and receive the opportunity to advance to the regional competition. 
However, in a unique turn of events, neither Dinh nor runner up Ishe Makoni will be able to attend the regional bee. "I [am] not able to attend the regional bee due to conflicts, and I [also] wanted Ishe to win," said Dinh, who also won the Middle School Spelling bee as a sixth grader.  Normally, the runner-up would fill in for the first place winner at the regional bee, but, coincidently, Makoni, a sixth grader, also has a conflict. 
"I have a tennis tournament in Coral Springs, and I [rarely] go to them," he said.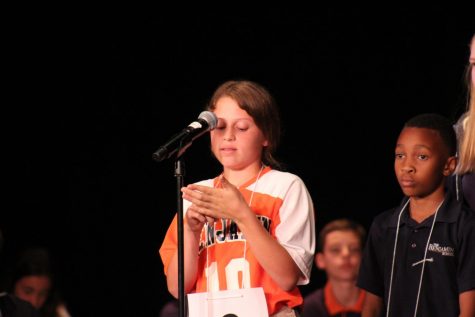 As a result of the confirmed absences, this year's third-place winner, seventh grader Vanessa Zito, will represent TBS and attend the regional bee. 
"I was very surprised when I found out because normally the first place winner is supposed to go," said Zito. "I had no idea that I was going to be chosen for the [regional] bee," she said.
Having the third-place contestant represent the Middle School set a precedent. "[It] is the very first time something like this has [occurred]," said English Department Chair Kathleen Devine, who also served as the bee's pronouncer, providing students the words to spell.
Despite the inability to advance this year, Dinh is satisfied with winning the school bee in her last year of eligibility. "I [am] happy that I was able to make a comeback in my last year of middle school," Dinh said. 
Like Dinh, Makoni has also been a champion speller in the past. "I was the [winner] in fifth grade, and in fourth grade I was runner-up," he said.
This year's Middle School Spelling bee consisted of a total of 30 participants – two winners from each English class in sixth, seventh, and eighth grade. 
"[Everyone] was so well prepared," said Devine. "I was very impressed with the [students]."
This year's competition lasted 17 rounds, with Dinh winning after Makoni missed the word "discrepancy." Dinh then spelled that word and then "attainment" to win. Her secret to being queen bee for the second time? 
"I memorize the words on the class lists and look up the definitions so I can associate [them] with [their] meanings," she said.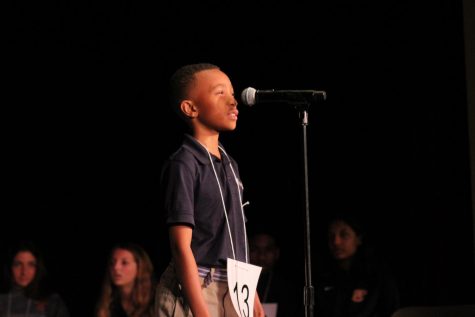 The 2020 Regional Spelling Bee will be held on Tuesday, March 10 at Boca Preparatory School. Zito feels fortunate to be going, and she's not taking the responsibility lightly.
"I will study by reviewing the [given] list by columns," she said, " and I will have [someone] quiz me on the pages [of words]."
Leave a Comment