Will Students Soon Be Issued Electronic ID Cards?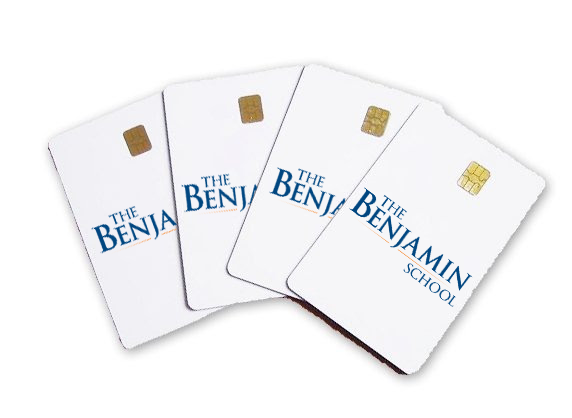 Schools can be dangerous places.  According to a recent report by ABC News, 65 school shootings took place in 2018. So it's no surprise that The Benjamin School has added more security to keep students safe by installing perimeter fencing and digital gates, beefing up their code red (shooter on campus) protocol, and hiring armed guards.
The latest measure is student ID cards for the high schoolers which, like the faculty and staff ID cards, contain an electronic chip that allow access to the upper school campus and its buildings. The cards also let teachers, security, and other students readily know if a young person on campus is a member of the student body.
However, that's not all the cards do.
"The cards serve many purposes," said Middle School Dean of Students Mr. Jeffrey Cavallo.  "The first purpose is to validate those on campus. Another purpose is to use the available technology for purchasing items on campus. I think the cards also contribute to reinforcing accountability, responsibility, and money management."
That's right, the new ID cards for high school students have the ability to be used as prepaid debit cards. This facet of the new ID cards is called BucPay. The BucPay system allows students to purchase items on campus instead of carrying money around. According to an email sent by the upper school administration on January 11, parents can set up an account online, add any amount of funds to that account, and then their child can access those funds using their ID card to buy items in the upper school lunchline (not the concession stand). Any unused balance left over at the end of the year carries over to the next year for that student.
So, will middle school students be getting these new ID cards?
"I do think the Middle School will use ID cards in the future," said Cavallo, "[and while] I cannot discuss future security measures, I can assure you that student safety and security are of paramount importance. In addition, we spend a great deal of time and effort in evaluating, analyzing, studying, and implementing safety and security measures," he said.
To his point, part of the afternoon on the faculty in-service day on January 7 was spent going over code blue procedures if there was ever a bomb threat or gas leak and the campus had to be evacuated.
Back to the ID cards, though. How do middle school students feel about the possibility of having ID cards which they must wear at all times on campus?
"It's a small campus, and there is no need for it because we have guards with golf carts," said eighth grader Alex Fleming Lake.
"The students have too much to worry about and would always forget [the ID cards]," added fellow eighth grader Eric Levine. .
Even with the BucPay feature that goes along with the ID cards, some students still feel it would be problematic.
"It's a great idea because it's a great way to keep track of your money," said eighth grader Jonathan Skatoff, "but I don't think we should have it here at the Middle School because students would forget [them] at home."
However, others think it's a smart solution.
"The [ID] cards seem like a great idea to me," said seventh grader Abby Spunar. "It's a great idea for students to have their own payment system. The IDs also sound like a great idea because you can tell who's who."
"[Using IDs is] much better than carrying around money and [it] does help [with] security," said sixth grader Andrew Shim.
While Cavallo thinks student ID cards will eventually make their way to the Middle School, there are no definite plans yet. Could it be an annoying hassle that students need to remember every day? Possibly, but the faculty and staff are already required to carry ID cards with them at all times. Plus, it would make the campus more secure and eliminate the need for students to bring their money to school. As the evolving world continues to move in a digital direction, ID cards seem to be an inevitability middle school students will have to deal with in the near future, just like their upper school counterparts are doing now.
Leave a Comment