NBA 2K18 Review
One of the greatest video game series has just dropped its annual issue and it may be the  best one yet: NBA 2K18. Released on September 15, the newest title from 2K (one of the world's leading video game publishers) features new game modes and cool modifications to the some of the game's signature elements. The new video game, available for the PS4 and Xbox One, features modes like MyGM which allows users to act as the general manager of any team to create a championship-caliber club. MyCareer provides gamers the opportunity to step into the shoes of an NBA player and become a star. There's also MyTeam which gives players the chance to draft a team and play through an entire NBA season, and finally, quick games where users can pick their favorite team to play against their friends.
According to a review by ign.com, one of the leading websites for video game enthusiasts, "The legacy of NBA 2K18 – that is, its gameplay and presentation – are in a great place, and so while not every risk taken with MyGM and MyCareer pays off, it's still a game that's worth coming back to all year long."
Many of the middle school students are in agreement.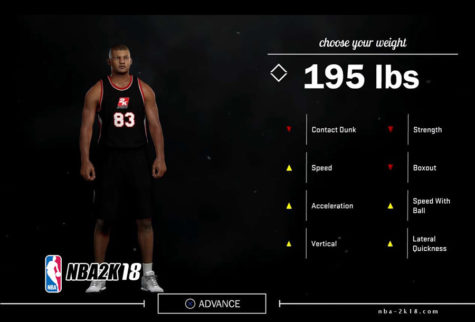 "I like how the new game has a more customized court to play on during online sessions, and I think it has excelled from the last game modes because it is totally different," said seventh grader Gabe DiFilippo. "I also love that you can buy different animations, get new haircuts, get any tattoos, and apply dance moves [to players] in MyCareer mode."
"My favorite gamemode is MyCareer because it is just fun to level up your player and make him good so when you play season games, it's really fun to drain three pointers all the time," said sixth grader Krish Raja.
Other students appreciate the realistic gameplay. "They put a lot of emphasis into the new game," said seventh grader Ryan Gikher. "I love how the graphics and everything feels so real, it's like I'm in the game. I also always play MyCareer because there are so many things I can do with my player. I can get a haircut, get my own tattoos, and have my favorite clothing brands on my player."
The gameplay has improved as well in NBA 2K18.
"I love the new shot meter because it is a little smaller, and it is slower, so you can get [better] releases more often," said sixth grader Zach Smith.
Is the game perfect? No – the game's AI (artifical intelligence) has trouble knowing when to front a defender or not in the post, and players still don't fill the lanes on breakaways, but there's not a more in-depth, realistic, and fun-to-play basketball game on the market than NBA 2K18. It's a slam dunk.