Students Make Fashion Statement in Art Classes
Students never knew art could be sew good! Fine Arts Department Chair Ms. Nancy McAllister's seventh and eighth-grade art classes expressed their originality through a fashion design project which allowed them to work with partners and dress up some mannequins.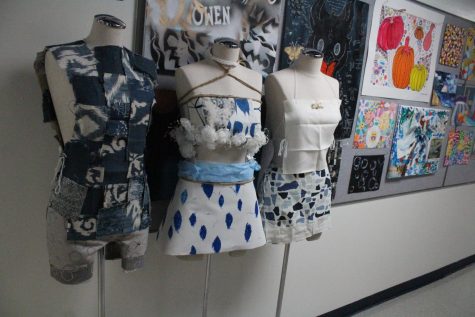 "I think the hardest part was figuring out how to attach [the fabric] to the mannequin, and we solved that problem by sewing buttons onto the mannequin and making sure it would stay, and making it fit better," said eighth grader Chloe York.
The process of dressing the mannequins took two weeks. While both classes worked on the project, the eighth graders used a canvas and painted their clothing designs first before using the fabric. The seventh graders just used fabric and dressed the mannequins directly. 
The students enjoyed the project even though it took a lot of work.  "First we found a shirt and we had to cut canvas, and then we painted it and sewed a button on the back," said eighth grader Abbey Trousdell. "We put a string through the shirt and someone gave us a necklace so we used that [to decorate it]."
This is the first time that McAllister has done an assignment with the mannequins, and she was very happy with the outcome. "I almost don't want to dismantle the 12 or so (mannequins) that are still in the hallway," she said, "but once I do, I think down the road, maybe towards the spring, to do it again but in a different format."
While McAllister wanted to expose students to new skills, she also knows how important it is for them to work together and build connections. 
"I decided to do this so that students would get to know their table mates and since we have so many new students, I thought it would be a really fun idea for them to merge their vision for an outfit on these mannequins and see what they could come up with."
Of course, the project equipped students with a new ability. "If I ever break an outfit [now] I can sew it with a button," said Trousdale.
However, because it was a group project, the students faced some difficulties in sharing their ideas.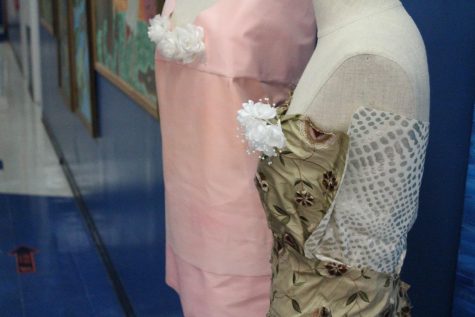 "[We disagreed] on some things [with] the color scheme because some of us wanted to do pink, and some of us wanted to do blue," said York. "And we also didn't know what to put on [the skirt], and we eventually just agreed on putting flowers on it. [So] we put a little bit of what everyone wanted into the outfit."
It was a challenging task, but the results were worth it according to McAllister. "We talked about it almost every day and went over all the stipulations – what I was looking for – and I made them repeat it back," she said.  "At the end of the project, they presented to the class, each one of them, and that was really cathartic for them to say this was our vision, and so I learned a lot from them, and I learned that some of them are pretty spectacular designers."
Leave a Comment