Mikayla Scotto, the Un-Artist
Seventh-grader Mikayla Scotto does not consider herself to be a good artist.
 "I like drawing flowers and landscapes, but I'm really bad at drawing people," she said. In fact, when asked to give herself a label, "artist" is not the first word she mentions. "I would say I'm an athlete first, then maybe an artist second."
However, her art teacher, Ms. Nancy McAllister, disagrees.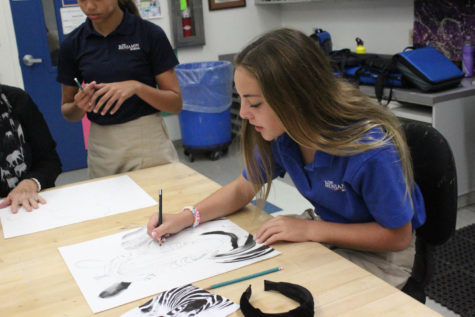 "Mikayla is a great art student because she is clever, detail-oriented, a good listener, and she isn't afraid to work through the creative process to the end result," said McAllister, who also serves as the fine arts department chair.  "Mikayla will [redo] a project from the beginning if she doesn't feel that it is her best effort. She would rather take the time to come in early in the morning or during lunch than to produce mediocre work."
McAllister also values Scottos' personality and love of life. 
"Mikayla is full of energy and positivity," she said. "She exudes passion for her family and others, and Mikayla's love of communication translates to her artwork. I adore having Mikayla in art class." 
During McAllister's C period art class, Scotto has exemplified her artistic talents from doodles to paintings of rainbow trees to clay 3-D Disney characters to charcoal smudge art. 
 Although while she takes art now, it's been many years since she's taken, classes.  "I used to do art when I was younger," Scotto said. "When I lived in New York, I used to do an art class with my friends and we did mostly painting and drawing classes, too, but then I stopped."
In choosing her elective this year, Scotto wanted something that she enjoyed and that would be relaxing. 
"[Art] is very calming and fun –  it's a nice break from classes," she said. 
Scotto's interests go beyond visual art. She also enjoys musical theater and sports. 
"I was going to do [the Middle School's production of Guys and Dolls this year], but I did not want it to interfere with lacrosse," she said. "When I lived in New York City, I always did musical theatre. I like music, so I'd like to be a singer."
She also enjoys sharing her art with others.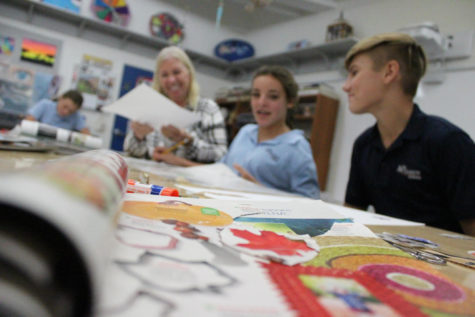 "[I] did a painting and Mr. Harbeck liked it, so [I gave it to him] and it is in his classroom.''
Scotto's friends appreciate her talents and her kindness.
"[She is] athletic," said fellow seventh grader Maddy Fullerton, who has known Mikayla since fifth grade, "and she cares about other people." 
"She is a lacrosse player, so she's very athletic, [and] she is very funny," said seventh-grade friend Sage Soerenson. "She's [also] funny, sweet, kind, [and] caring." 
"She is truly multi-talented," said McAllister, "and because of Mikayla's personality, her peers want to be around her. She is growing up to be quite a fine young lady and artist."
Leave a Comment