NFL Preseason Power Rankings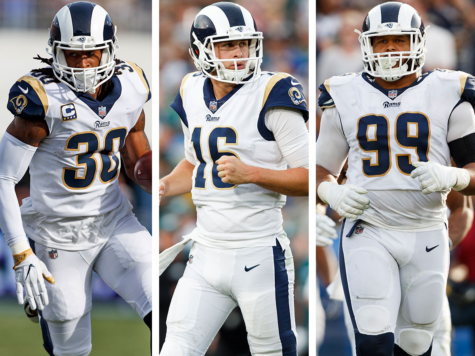 Everything football starts in August: high school football, college football, Madden NFL, and the NFL preseason. With the start of the NFL season fast approaching, The Neersyde preseason power rankings are here. Check back every week for updated power rankings.
1. Los Angeles Rams
The Rams will begin this season at full health with the returns of Cooper Kupp (WR) and Todd Gurley (RB), both of whom were injured for last year's postseason. The high-power offense will be returning better than ever.
2. New England Patriots
The defending Super Bowl champs had a tough offseason with the loss of Rob Gronkowski (TE). They still have Tom Brady (QB), though, so anything is possible.
3. New Orleans Saints
The best quarterback-running back-wide receiver tandem is the best in the league with Drew Brees (QB), Alvin Kamara (RB), and Micheal Thomas (WR). They also have a solid defensive core with Cameron Jordan (DL) and Marshon Lattimore (CB).
4. Kansas City Chiefs
The team is lead by the reigning MVP, Patrick Mahomes. They have a scary good offense with Tyreek Hill (WR) and Travis Kelce (TE). The defense isn't too shabby either with Frank Clark (DL) and Chris Jones (DL).
5. Dallas Cowboys
Assuming Ezekiel Elliott (RB) plays, the Cowboys may be Super Bowl contenders. They have a great linebacking group with Jalen Smith (LB) and Leighton Vander Esch (LB).
6. Chicago Bears
They have arguably the best defense in the league with Kahlil Mack (LB), Roquan Smith (LB), Eddie Jackson (S), and Kyle Fuller (CB). The big question is can young Mitchell Trubisky (QB) take his game to the next level.
7. Los Angeles Chargers
This AFC West team is also an offensive powerhouse just like the Chiefs as it is led by veteran Philip Rivers (QB), Melvin Gordon (RB), and Keenan Allan (WR). They also have a quality pass rush led by Melvin Ingram (LB) and Joey Bosa (DL). They took a big hit with star safety Derwin James recently fracturing his right foot, meaning he's out indefinitely.
8. Indianapolis Colts
This team lives and dies by Andrew Luck's (QB) health. They have an excellent o-line that only allowed 15 sacks last year. Breakout linebacker Darius Leonard heads up the defense.
9. Philadelphia Eagles
This team also lives and dies by the health of its quarterback, Carson Wentz. They have an excellent defense with Jason Peters (DL) and Brandon Graham (DL). The receivers on this team are extremely deep with Alshon Jefferey, Nelson Agholor, DeSean Jackson, and JJ Arcega-Whiteside.
10. Baltimore Ravens
This team is built like an old-school football team. They rely on the run game and good defense. The addition of Mark Ingram III solidifies their spot as a contender.
11. Houston Texans
This fearsome team is headed by J.J Watt (DL) and Deandre Hopkins (WR). The quarterback throwing to Hopkins, Deshaun Watson, also has Lamar Miller in the backfield with him. The linebacker lining up across from Watt is Jadeveon Clowney.
12. Cleveland Browns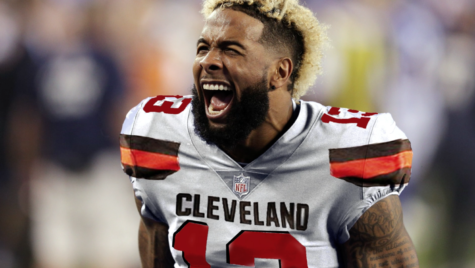 This team made some major moves this offseason to become contenders. They brought in Odell Beckham, Jr. (WR), Oliver Vernon (LB), and Kareem Hunt (RB). These players were added to a young core which includes Baker Mayfield (QB), Myles Garret (DL), Jarvis Landry (WR), Nick Chubb (HB), and Denzel Ward (CB).
13. Pittsburgh Steelers
This team has had major departures on offense this year. Antonio Brown (WR) and Le'veon Bell (RB) both left. They still have JuJu Smith-Schuster (WR) and James Connor (RB). The cornerstone of the team is veteran Ben Roethlisberger (QB).
14. Carolina Panthers
The offseason moves the Panthers made were very good. They signed Gerald McCoy (DL) and Tre Boston (S), then drafted highly touted Brian Burns (LB). These moves strengthened their defense. The offense should have no worries led by Cam Newton (QB) and Christian McCaffery (RB).
15. Green Bay Packers
Back-to-back losing seasons with Aaron Rodgers for the Packers was a disappointment, but they're trying to make sure it won't t happen again. They fired Head Coach Mike McCarthy and hired former Los Angeles Rams' and Tennesse Titans Offensive Coordinator Matt LaFleur. Green Pay also signed Adrian Amos (S), Preston Smith (LB), Za'Darius Smith (LB), and Billy Turner (OL). The front office also drafted Darnell Savage (S) and Rashan Gary (LB).
16. Atlanta Falcons
This team was in the Super Bowl three years ago and seemingly hasn't recovered from their ignominious defeat at the hands of the Patriots. Matt Ryan (QB) has never been the same since the frustrating loss, and Julio Jones has been dethroned as the best wide receiver in the league. The Falcons also lost Tevin Coleman (RB) who backed up injury-prone Devonte Freeman (RB).
17. Seattle Seahawks
make the playoffs last season, but it lost major pieces to its defense like Frank Clark (DL) and Kam Chancellor (S). They also lost wide receiver, Doug Baldwin.
18. Minnesota Vikings
The Vikings are in a tough division, the NFC north. They have a great defense with Anthony Barr (DL), Xavier Rhodes (CB), and Harrison Smith (S). The offense is a different story. They have struggled to find a good quarterback in past years. This led them to give Kirk Cousins a very large contract. The best players on the offense are wide receivers, Stephon Diggs and Adam Thielen.
19. Jacksonville Jaguars
The splash Jacksonville made this past offseason was signing Eagles legend Nick Foles (QB). The quarterback was their major need, and they addressed it. They also got extremely lucky when Josh Allen (LB) fell to them at seven in the NFL Draft. This added to their already stacked defense.
20. New York Jets
Adding Le'veon Bell (RB) and C.J Mosley (LB) were huge highlights during the Jets' offseason. The one thing that has to happen to make them successful, though, is sophomore starter Sam Darnold (QB) taking the next step.
21. Buffalo Bills
A quiet offseason for the Bills did not hold them back from rising in the power rankings. Drafting Ed Oliver, Jr. (DL) is the step they need to take to become contenders. They also need Josh Allen (QB) to stay healthy.
22. San Francisco 49ers
After giving Jimmy Garopolo (QB) a big contract last year, he was lost for the season early on. They would love to see him get back to full strength. Signing Tevin Coleman (RB) added to San Francisco's loaded running back group.
23. Tennessee Titans
This team could contend if Marcus Mariota (QB) can stay healthy. The Titans traded for Ryan Tannehill (QB) to back him up, but nothing else significant happened for them this offseason.
24. Denver Broncos
The Broncos have drastically fallen off since their appearance in the 2016 Super Bowl. Struggling to find a quarterback, they traded for aging veteran Joe Flacco and drafted Drew Lock. The pass rush is great, though, with Bradley Chubb (LB) and Von Miller (LB).
25. Tampa Bay Buccaneers
The disappointing play of Jameis Winston (QB) is holding back this team, but drafting Devin White (LB) helps infuse the linebacking corps with youth.
26. Detroit Lions
Signing Trey Flowers (DL) and Mike Daniels (DL) was very useful for the defense. Still, the team is struggling to find an identity under head coach Matt Patricia.
27. Washington Redskins
Many of the teams at the end of the power rankings need a quarterback, and the Redskins are no exception. They have rookie Dwyane Haskins (QB) who was a stud at Ohio State, but the 15th overall pick in this year's NFL Draft has struggled in the preseason. They have a solid young defense which may help them win a few games this year.
28. Oakland Raiders
Most of the Raider's recent attention stems from Antonio Brown's (WR) helmet saga and the TV show Hard Knocks. This season will decide if Derek Carr is the franchise's quarterback of the future.
29. New York Giants
They made some questionable moves in the offseason, most notably trading Odell Becham, Jr. (WR) to the Browns. Drafting Daniel Jones with the sixth pick was the surprise of the draft, but he's played well so far in the pre-season.
30. Miami Dolphins
The Dolphins reset things this offseason after a lackluster couple of years. They hope former Patriots' Defensive Coordinator Brian Flores can right the ship, and he inherits a decent corps on defense as they enter their rebuild.
31. Arizona Cardinals
Drafting Kyler Murray (QB) number one overall was extremely exciting for Arizona. However, many of the problems the team had last year, such as the poor play of the offensive line, have not been solved. Hiring former Texas Tech. University Head Coach Kilff Kingsbury to call the shots was the most questionable hire of the year.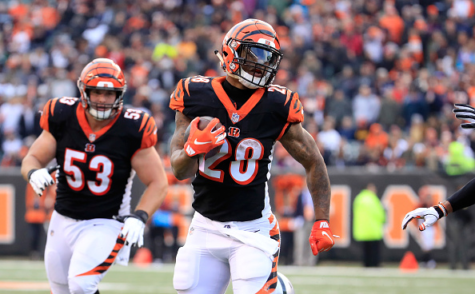 32. Cincinnati Bengals
They have finally hit the reset button by firing Marvin Lewis, a move that was probably long overdue. Cincinnati will likely tank this season with the absence of superstar A.J Green (WR) for six to eight weeks with an ankle injury.
View Comments (1)