Eighth Grader Selected for All-State Band
The Benjamin Middle School is no stranger to fantastic talents. Eighth grader Joie Rodin is a perfect example. With her undeniable skills as a saxophone and oboe player, she recently qualified to play with the  All-State Band, a prestigious group of the best student musicians in the state who are chosen by a panel of discerning judges.. As a result, she played at the Florida Music Educators Association Conference in Tampa on January 11 in front of an audience of 2,000 people. "It was my first time performing with this particular band and I was so nervous because everyone was so talented," said Rodin. "After a few hours passed by, [though], I became more relaxed and got to know some people performing with me."  Rodin performed with 123 other middle-school-aged musicians and played second chair oboe, meaning this year she was the second best oboist in her age group in the state of Florida.
Getting to the All-State level, however, takes a lot of practice.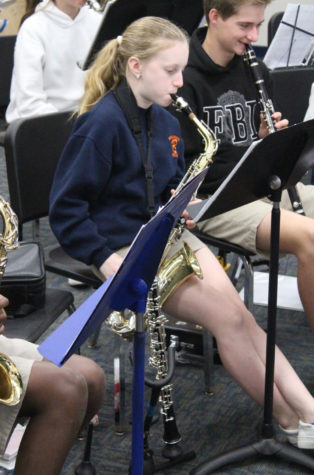 "I practice frequently with Mr. Huber and Mr.Winters in school," said Rodin, who has been playing saxophone for six years and oboe for seven. I also meet with someone out of school two to three times a week to perfect my notes and music pieces that I am currently [working on]. I hope to make music a career in the future," she said.
Her music teachers also see how much work Rodin puts into her music. "Joie is such an amazing student who admires music as a whole," said Co-Band Director Mr. Bruce Huber. "She pays attention to detail and always wants to perfect her mistakes. I am so proud of her and her accomplishments so far in her musical career. It is such an honor to teach her," he said.
However, Huber is not the only one who notices Rodin's hard work and love of music.
"She is always practicing really hard," said fellow eighth grader Jessica Holland. "Whenever I am with her, Joie is always thinking about her latest performances and what she could have done better. I am so proud of her determination to be the best performer she can possibly be," she said.
Rodin's determination and attention to detail carries over to her schoolwork as well.
   "Joie is always engaged and focused in class," said eighth-grade English teacher Mrs. Kathleen Devine. "She is very thorough with her writing, and always completes her work on time. When she misses class, she is extremely diligent about coming in early to discuss what she missed. She is such an upbeat young woman who is a joy to have in the class."
Not only is Rodin a conscientious student, but her talent as an oboist and saxophonist has already propelled her to some impressive accomplishments in middle school. She hopes to continue that success as she moves forward "My goal is to play in the high school, hopefully in college, and make this fun hobby [of mine] a career."
Leave a Comment