"Taken Away" Reminds Students About the Destructiveness of Hate
The Holocaust came to The Benjamin School on Thursday, October 25, 2018. Nazi soldiers forced their way into the home of an innocent family and sent the parents and teenage daughter to a concentration camp. It was both terrifying and heartbreaking.
Fortunately, it was just a play.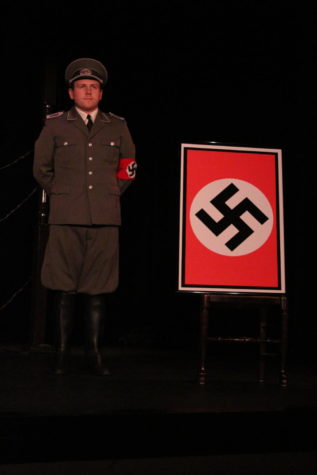 Kravis-on-the-Road, a division of the Kravis Center – Palm Beach County's premier performing arts venue, takes arts education programming and brings it to different schools. The organization brought Taken Away to the Middle School and performed it in the BPAC. The play, which only features four actors, tells the story of teenager Elfie Hoffman and her family who live in Germany in 1937. Although the Hoffmans are Christians, their neighbors – Nazi sympathizers, alert local Nazi soldiers that the Hoffmans are tolerant of Jews. After some research, the Nazis discover that Elfie's grandfather converted from Judaism to Christianity. As a result, the Nazis begin to make life more and more difficult for Elfie and her family until the three are ultimately sent to a concentration camp.
According to the Jewish Virtual Library (www.jewishvirtuallibrary.org), while in power, the Nazis systematically killed approximately six million Jews and 11 million other people that included Soviet citizens, ethnic Poles, Roma, the physically disabled, and Jehovah's Witnesses.
The play's concept was very deep and made an impact on students.
"I think the presentation was very intense, [but] I thought it was very interesting," said seventh-grader Krish Raja. "I don't like how the Jews got blamed for something that they were not accountable for," he said.
Part of the reason TBS brought Taken Away to the School was to educate students about the Holocaust and cultivate a culture of kindness. For the past five years, the Middle School has been named a 'No Place for Hate' by the Anti-Defamation League (ADL). According to the ADL, the 'No Place for Hate' program is meant to build a safe community, stand against hate and bullying, and send a message that everyone has a place to belong.
"This is a part of our anti-bias program, this is a part of our school culture," said Head of Middle School Mr. Charles Hagy. "In a world where hate and anti-semitism are on the increase, it is really important for us to talk to our children about the dangers of falling into that trap of bullying and being anti-semitic. That's why we are thinking so much about love, kindness, passion, and empathy. We want to promote those characteristics in our kids, but you can't do that as effectively unless you teach the kids about the history," he said.
These were some of the same lessons students took from the play.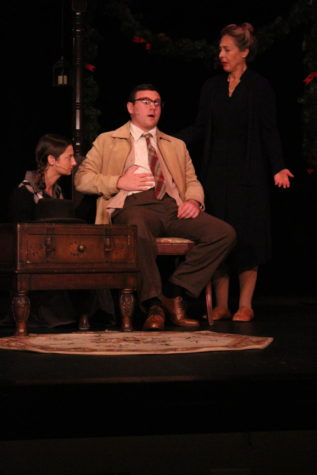 "Not just Jews shouldn't get bullied; no one should get bullied," said sixth-grader Grant Donohue. "All people shouldn't bully people or put them down because then they will get really mad or try to get revenge," he said.
There were also students who thought that the part in the play where Elfie Hoffmann fights back is the most important part because it represents her standing up for herself.
"My favorite part was probably the part where Elfie slapped her friend [who had become a member of the League of German Girls] because it showed that she was fighting back for her family," said seventh-grader Tyler Kelly.
   The play took on even more significance because earlier in the week, on October 27, 11 worshippers were shot to death inside a Pittsburgh synagogue, making it the nation's deadliest attack on Jews according to CBS News.
"What can kids do to make the world a better place, to prevent things like what has recently taken place in our country from happening?" asked Hagy. "The antidote to hate is love, the only way to get out of the darkness is to provide light. There is so much that can come from being good, that's how you live a happy life," he said.
Leave a Comment