Why Is Girls' Lacrosse Not as Physical as the Boys' Game?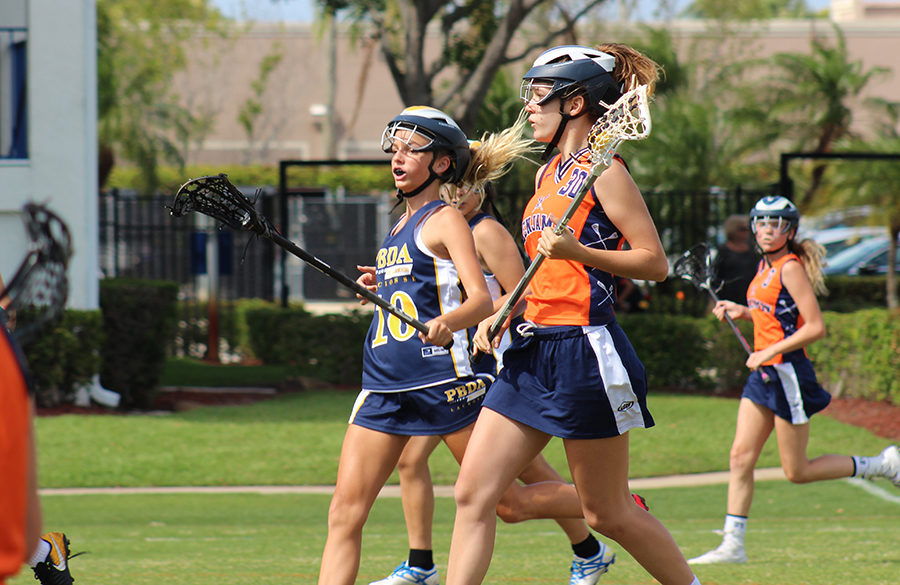 Lacrosse in the early Americas was a ceremonial ritual that was played by certain Native American tribes to give thanks to the Creator. Played across miles of territory, the game was a violent symbol of warfare where injuries were common, and some players even lost their lives. With this history, it's no wonder that the sport still remains a physical activity today. Well, at least for boys.
The girls' version of lacrosse is one of finesse, which is not a problem, but in a time of gender equality, shouldn't the girls' game be equally physical to the boys' game? The fact that the girls are not allowed to hit, but the boys can, suggests that the girls are not able to handle a physicality of the sport.
"If the girls wore more pads, I would like it be more physical, and I'm sure a lot of my players would like it too," said Mr. Greg Keller, head coach of the middle school girls' lacrosse team which went undefeated this year and claimed the league championship. His assessment of his players seems to be accurate.
"I would love girls' lacrosse to be more physical, one hundred percent," said eighth-grade lacrosse player Alexa Cousin. "I'd like it more than how it is right now. It would be so much fun."
"This was my first year playing," said fellow eighth grader Jenny Maciejko, "but I still think it would be more fun if it could be more physical. I like aspects of guy's lacrosse and I wish girls' would be more similar."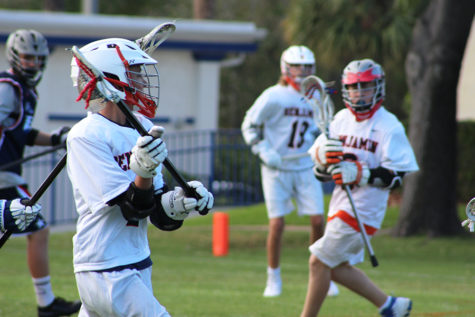 Boys' lacrosse is significantly more physical than girls' lacrosse. This contributes to the amount of padding needed for each sport. Boys in middle school and high school wear helmets, gloves, arm pads, and chest pads, whereas girls only wear helmets. (Up until last year, simply goggles for girls were acceptable at the middle and high school levels).
Rule differences also make the girls' game less physical. For example, dangerous shot – where a female player cannot shoot with a defender between her and the goal – does not exist in the boys' game. There's also the three-second rule in girls' lacrosse, where an offensive player cannot be within the eight-meter arc for more than three seconds. In addition, there is limited checking and limited contact in girls' lacrosse. These rules may create more stoppages in play, but it also makes the game safer for girls.
"I would like lacrosse to be more physical because it gets kind of boring with all of the calls, but also I wouldn't want anyone to get hurt," explained eighth-grade lacrosse player Danielle Lancaster.
Surprisingly, according to a study conducted from 2011-14 by National Athletic Treatment, Injury and Outcomes Network (NATION) cited by the Cleveland Clinic, high school girl athletes are 56% more likely to suffer from a concussion than boys. However, when it comes to lacrosse, the girls' sport is not the most dangerous. According to the study, the highest concussion rates for high schoolers "were in football (9.21 concussions per 10,000 participations), boys' lacrosse (6.65 per 10,000) and girls' soccer (6.11 per 10,000)."
Many boys' lacrosse players do not have a problem with this fact, though. EIghth grader Jacob Steinger is totally fine with the risk. "The chance of me getting a concussion in lacrosse is not any higher than other contact sports," he said. "If I didn't want the risk, I would've played a different sport."
In fact, it was the physicality that drew Steinger to play lacrosse this year for the first time.
"I only started playing lacrosse because someone told me it was like football with metal poles," said Steinger. "If it wasn't physical, it just wouldn't be as much fun."
Other male lacrosse players agree.
"I think that if girls' lacrosse was more physical, it would be much more entertaining," said eighth-grade lacrosse player Antonio Maciel.
"Boys lacrosse is cooler because it's really entertaining to see someone get knocked down and have the game going without many stops," explained eighth grader Sai Chigurapati,  who doesn't play the sport, but enjoys watching it. "In the girls' [game], you can't really do that, and it gets stopped so much."
There is an ongoing battle for equality of the sexes. If women should be treated equally to men in terms of salary, promotions, the workplace, and society in general, equality should also be brought to the field as well. Even though many students and coaches at TBS would like to see the girls' game evolve to become more like the boys', will it actually happen? Only time will tell.