"Into the Woods" Shines on Stage
The members of this year's musical theater class brought us Into the Woods this February 25 and 26 and the results were spectacular! Drama Director Mr. Bob Bayless and Musical Director Mr. Andrew Winters chose this particular musical because of all the opportunities it provided for the students to sing solos. A famous Broadway production, Into the Woods intertwines several fairy tales, including Little Red Riding Hood, Cinderella, and Jack and the Beanstalk. It was also recently turned into an award-winning movie starring Meryl Streep, Chris Pine, and Anna Kendrick.
Though Benjamin's cast, mostly members of the musical theater and drama classes, spent long hours rehearsing after school and on weekends, the process helped galvanize the students as a team. "I think the common talent and admiration for theatre has brought us closer than we started out," said seventh-grade musical theater student Briley Crisafi. "One of the best parts of theater is helping everyone with their mics, putting on each others' makeup, etcetera. It may sound silly, but that builds a bond and it's a really fun and important aspect in the relationships of the stage!"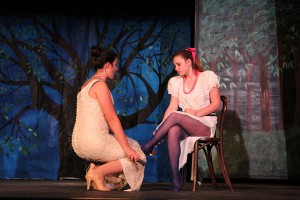 There were even some students who did not take musical theater or drama as an elective, but were still able to be part of the show. "Mr. Bayless asked me [to join the musical] and how can [anyone] say no to him?" asked Vinny Amato, who played the cow, Milky White, in the production." I love drama, and even though I did Film and TV [for my elective], I still wanted to participate in the show. It was awesome. I loved the thrill of being on stage and practicing for a big performance."
The students also know the musical wouldn't have been a success without their teachers' involvement. "Mr. Winters and Mr. Bayless are extremely supportive," said seventh grader Olivia Cornett, who played the Butcher's Wife. "Both teachers gave the entire cast advice to make us all better performers," she said. "I have learned so much from this experience and can not thank them enough."
The feeling seems to be mutual. Bayless said the show was great " because of the magic created by those students. They connected to the audience and the audience connected [to them] because of the excellence with which they performed. It was magical!"
Sounds like a fairy-tale ending to a fantastic musical!
Leave a Comment