Ready to Read
     It's book season. As fall comes around, many diligent readers anticipate the release of a new wave of novels:. Many authors release one book a year, fall being the preferred season to capitalize upon the holidays and the beginning of the school year. 
 The next book in the Keeper of the Lost Cities series, Stellarlune, is scheduled for release on November 8. Fans of the series have been waiting to read the novel for two years after being left with a devastating cliffhanger to sit with. The series focuses on a theoretical world behind the curtains of Earth. Even though most of its world is fictitious, the author, Shannon Messenger, embeds reality into the characters' conflicts and events that occur.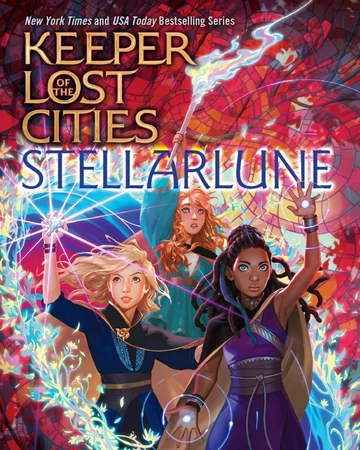 Another release slated for November is the latest book in the Warriors saga written by the pseudonym Erin Hunter. Sky will be released as the second book in the current story arc, A Starless Clan. The huge series now spans over 60 books and produces five every year. The plot focuses on real-world problems such as politics and racism being portrayed by a world of sentient cats. 
Bloodmarked by Tracy Deonn also comes out in November, the sequel to the critically acclaimed novel Legendborn, focuses on a teenage girl Bree who recently lost her mother. The book revolves around Bree, now on the run from the society of dehumanizing Legendborn, hunting to destroy what they view as a threat. The novel delicately touches in with themes of grief and racism in reality. 
Many different books are coming out, so not all of them may have reached this list. 
Another important question is why students enjoy reading. Reading can be a relaxing activity for students to wind down after a long day of arduous studies. Books can help people escape from reality when stress starts to pile up. Finding a good book is scientifically proven to help mental development and strengthens the brain's neural networks. Reading can improve the brain's empathic abilities: observing characters based on reality (the best novels) can help you handle real situations. 
Now let's hear from our English department about their opinions on literature. Mr Ginnetty, the seventh grade English teacher who has been teaching at Benjamin for seven years, said, "I always loved reading and writing. When I was in middle school I especially developed a love of poetry." In Mr. Ginnetty's opinion, communication is critical and helps people develop better relationships and lead a more successful life. Communication is a skill that stems from having a deep understanding of language and it can help people more effectively convey their emotions. Mr. Ginnetty said, "I think I would've applied that understanding to other classes that didn't come so easily to me." In his eyes, Benjamin makes people wise, and shows them their passions that they have not previously discovered. He is glad he has had the opportunity to teach in such a positive environment.
Mrs. Ferguson is Benjamin's primary sixth grade history teacher. Mrs. Devine had previously required that students read for 20 minutes once a week to encourage the love of books. To add incentive to reading, Mrs. Ferguson implemented a prize of Chipotle lunch for the winning advisory. She says, "Reading not only helps students with comprehension and vocabulary, it helps to create empathy." Reading, in her eyes, helps people step into another world and away from academic stress.
Leave a Comment