Video Production Students Create Fake Movie Trailers
Coming soon to a theater near you… sort of. Once again, the TV and Film department is creating fake movie trailers. Some are from real movies while others are TBS originals. 
This project is fresh and new for the Film and Tv class. "It is something that we never really have done before. Years ago I had students in Film and Production class and they asked to do a fake trailer at the end of the year and it turned out pretty good. I enjoyed it," said Middle School Coordinator of Academic Affairs Mr. Nicholas Crisafi. "So I decided to try it this year as an actual project for the advanced students. It was something new and interesting."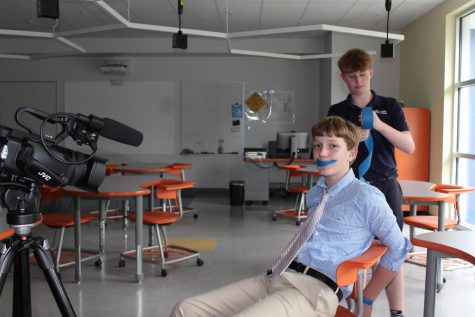 Before preparing and filming you must need to let your imagination figure out the project. "I have enjoyed working on the fake trailer project because I think it's a great project to get to use our imagination and creativity. That is one of the reasons I picked the elective to be able to be creative and have fun with assignments," said eighth-grader Lila Cooper. 
The filming is not the only part of the project, you first need to prepare. "My favorite part is preparing for the project. I think writing the script is fun because it lets you be creative in what you want to do. We get full control on what we can do," said eighth-grader Ryan Smith.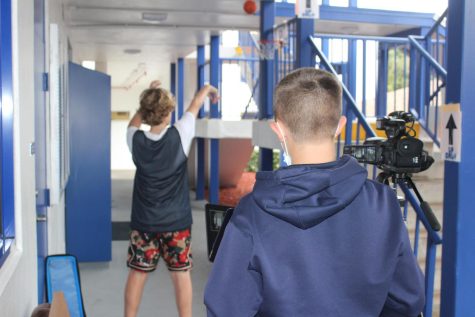 It is a big process that takes patience, time, and effort. "I enjoyed working on the fake trailer project because we got to be more creative than when we are just doing normal news packages or broadcasts," said eighth-grader Haley Roth. "Mr. Crisafi told us the trailer had to be 30 seconds to two minutes. He also reads over all of the scripts to make sure they are ready to be filmed. He also told us to use shorter clips to make it look more like a trailer."
The students had the opportunity to explore their interests for the project without many parameters. 
"I have enjoyed being able to use our creativity to develop fun and exciting trailers for our class," said eighth-grader Owen Olbers. "We did not get many parameters besides the fact that our screenplay had to be in a specific format and approved by him before filming."
This project boosted the TV and Films students' creativity in a fun but educational way. The students in TV and Film really enjoyed the project and all the aspects. Preparing, patience, effort, dedication, creativity, imagination, and filming described this amazing project and it is how it came together. 
Leave a Comment