Students Take to Broadway for 26th Annual Variety Show
Lights, cameras, stream! This year's Variety Show will be streamed for all to see. The event will be a video, which was sent out Friday, January 21, 2022. The show consisted of different variations of broadway acts, such as dancing, acting, singing, and instrumentals. Many of our Benjamin Middle School students performed in the show.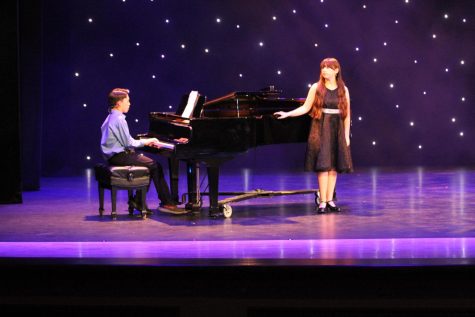 Nancy McAllister, Middle School Art teacher, used her artistic skills to spruce up the show under the limited circumstances during Covid for the Variety Show. "This year, the theme was Movie Magic Act I and Act II. Due to the new covid protocols we had to film all of the skits, so there was no audience, and the kids often respond better to having an audience," she said. 
Fortunately, the Variety show was still able to include the community. "We had Lower School and Middle School come in on Friday night for recording. The recordings will be put together into one video which will be a link that will be sent out," said McAllister. "Fortunately, we were at least able to have their parents come in and sit at the very back socially distanced."
Sixth Grader, Isabella Lazo was very excited to perform in the show this year, to show off her dance moves. "We did a classical jazz dance for the dance team, and it was a Broadway song that we danced to," said Lazo.
Another dancer, eighth grader Alyssa Saraqi, performed in the Variety Show in past years. "This year was different because there is usually a crowd, and this was all filmed, but other than that it was pretty much the same thing," said Saraqi. "One of our more noticeable dances was The Jersey Boys. The Jersey Boys show on Broadway was really encased in our dance."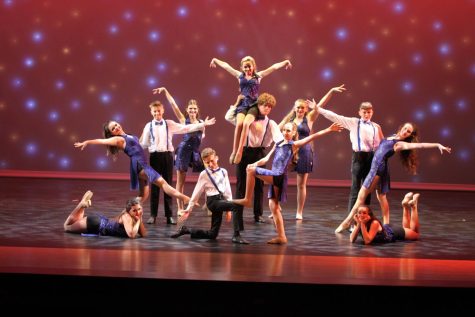 Like Lazo and Saraqi, eighth grade bass player, Sebastian Scaperotto also performed a song based on a Broadway show. "I played one song, "," and it is from Rent, a broadway show," said Scaperotto. Unlike the other arts, music was recorded on a separate day, and added into the show later. "I will be recording my song in Benjamin Hall along with many other students," said Scaperotto.
McAllister and dance teacher Lori Ramirez didn't find much trouble having to record the performances. "I think it was really nice for the parents because they got to kind of see the 'behind the scenes' of what it takes to put that performance on stage," said Ramirez. "One of the reasons the students did so well was because they were so well prepared."
McAllister has similar opinions. "It was very easy recording the students. This was because they were so used to being recorded," said McAllister. "However, it was not ideal. We hope the show can go back to normal by January 2023."Although the Variety show has faced many challenges, they still manage to record a great performance.
Leave a Comment