Diving Head First onto Varsity
Eighth grader Sarah Napier talks about the joys and challenges of diving on the varsity team at TBS.
It's not unusual for one to play a team sport at TBS, but it is unusual for one to be the only member of that team. That's just the case for eighth grader Sarah Napier, the lone member of Benjamin's dive team. However, she doesn't mind. 
"It doesn't really bother me, it just makes me work harder because I'm the only one collecting points for the Benjamin dive team," she said.
According to Upper School Athletic Director Mr. Ryan Smith, TBS has had a dive team since the school was founded in 1960, and having only one diver on the team is commonplace.
"We have had other years where we have had one or two divers on our team," he said. "It is a very specialized sport, so it is not uncommon for schools to have one or two divers on the team. Fortunately, we have had some great divers attend The Benjamin School who have not only had success in high school, but also college."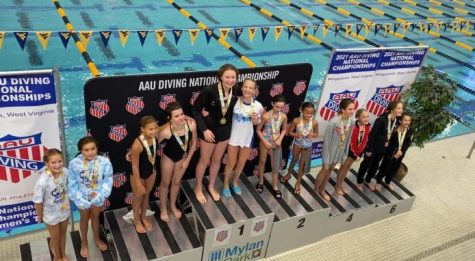 Napier hopes to become one of those divers and became interested in the sport at a very young age. 
"What first inspired me to dive was the older people [at the country club] that were already doing dives off the diving board, and that inspired me to go and try to dive myself," said Napier, who was only four years old at the time. 
She quickly became better with lots of practice. 
"I do three-and-a-half hours every night, and sometimes I will do a two-hour practice on Saturday," said Napier, a native of upstate New York who is in her first year at TBS. 
Her commitment to the sport is apparent to anyone who knows her. 
"Sarah is a very hardworking and dedicated individual," said Mr. Derek Jones, Napier's coach. "My first impression was, 'Wow, this girl is very tall and she has good technique.' She puts more time into the sport than any other kid her age."
"She is really passionate about [diving],"  said Napier's friend and fellow eighth-grader Emma
Markin. "I can tell by the way she talks about it – I think she will make it far."
Napier's diving schedule keeps her busy, but she has her preparation routine down pat.
"I have about five to ten competitions a year," said Napier, who has competed against schools such as Bolles, Saint Andrew's, Dwyer, Suncoast, Miami Day, and Oxbridge this year. 
"I go to practice and work on all of my dives, then I check my list [of dives] that I [will perform] the next day and make any final edits. Then I stretch and go to bed early anytime between nine and ten [p.m.]."
However, being a student-athlete can be challenging at times as it requires proper time management between academics and her sport. 
"It is hard at times to keep a good balance, but I have learned to take the time when I don't have practice to get my work done," she said.
It's been extra challenging for Napier this year because of the rigor at TBS. 
"Benjamin is a lot more difficult than my last school – the academics are more in-depth and the homework is longer and more detailed," said Napier.
Napier seems up to the challenge, though, according to her friends.
"She is very positive,  always really nice, and happy," said Markin.  "She is never mean, and helps you out if you need anything."
Leave a Comment