Two Sixth Graders Find Success on Volleyball Team
On any team, you could get hurt, but that's the risk people take, especially if you're the youngest and undeveloped. Kinzie Bunting and Emmie Hill are both sixth graders on the blue team (the A team) for middle school volleyball. "It is so cool to be starting on the blue team as the libero because I love playing volleyball and I like to return the hard shots," sa
id Bunting. Starting on the court is a very big deal, plus being a libero means you are the best passer. 
"Emmie and Kinzie are strong volleyball players," said Dr. Nicollee Inguagiato, the team's coach. "They understand the game quickly and have powerful serves and great passing accuracy. They really complete the team."
Everyone starts somewhere. "I started playing volleyball when I was nine on the beach, and I still play beach volleyball every summer," says Bunting. Beach volleyball is very difficult and different from regular volleyball. People start in different ways, some can start outdoors or indoors. "I started volleyball when I was 8 but I was playing JTAA [rec volleyball]. I started traveling last season," says Hill.
Being on the blue team says a lot. You are the top team with the highest standards. It could be uncomfortable or scary being on the court sometimes. "I definitely feel comfortable on the blue team because of my teammates." says Bunting. Teammates help a lot, like energy, practice, and confidence. Having teammates is a great opportunity to build community and being a good teammate is key. Coach Inguagiato is pleased to see her team is leading by example. "This goes to show the wonderful kindness the other players on the team exhibit. The team is really working well together, even all of the different personalities are meshing well as one unit. You can see this on the floor during the games and in practices," says Inguagiato.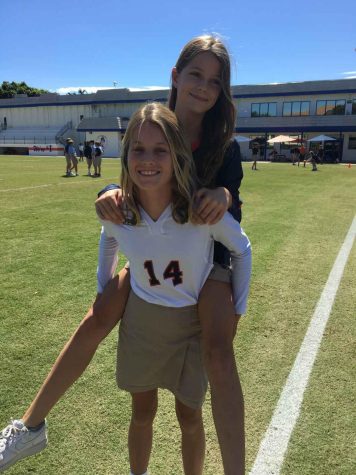 Playing in multiple places is a great way to warm up and keep in shape; some play for school and clubs. "I play for Jupiter Elite, and I play middle." says Hill. Jupiter Elite is a club that plays indoors and has camps on the beach. People play at the beach and indoors, some are versatile enough to play for both. "​​I play in a league called Sandsharks. I play with them in the summertime on the beach. We play 2's, which is 2 on 2." says Bunting. 
Juggling school and athletics is a tall task for some, however these two seem to manage. "Yes, when we have games I have to catch up on a lot of work at home," said Hill. Time management is key with student athletes, you have to plan out your day to make sure everything gets done. "It is not that hard doing academics and sports because I can plan my day out and the practice is not that long so I can do homework after," says Bunting. Kinzie and Emmie may be the youngest but it seems they are wise, skilled, and committed beyond their years.
Leave a Comment