Golfer Gabriella Degasperis Breaks the School Record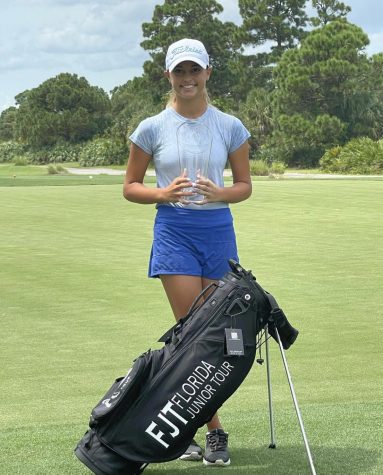 Athleticism. Determination. Drive. Those are the qualities it takes for a middle schooler to play on the Varsity Golf team and just a few of the many character traits that describe eighth-grader Gabriella Degasperis. Gabriella, despite her age, is at the second spot on the golf team. She is one of two middle school girls to make it on varsity. Recently, Degasperis shot a 64 in a tournament at Plantation Preserve. The round is a record for Girl's Varsity Golf since the Benjamin School was founded 60 years ago.
Breaking the school record is a big accomplishment. Most people would agree that it should be awarded. "When I shot my 64, the [high schoolers] brought me cookies and did a whole little party," said Degasperis. 
By all means, Degasperis got nervous before tournaments against other high schools, but not anymore. "I don't usually get nervous anymore, but for big tournaments sometimes I used to get pretty nervous and then I think in the past year and a half I have gotten better at it, and the way I overcame that was just thinking that it doesn't matter," she said.
It always helps her when teammates are there for her. "They have all been welcoming. They would all take the time to text me."
Being a good teammate is a very important task while being on a team. Gabby's coach, Coach McCumber, sees that from Gabby. "She is an excellent teammate. Hard worker and has a great attitude. A quality I admire is not being able to tell how a player is playing and whether Gabby is shooting 64 or 78 you can never tell," said McCumber.
Even though Gabby is new to the school this year, her friends are there to support her. "I am very proud and happy for her about playing varsity golf. It's a hard task and she is doing well," said eighth-grader Rana Miller about Degasperis.
The intensity Gabby has with her started at a young age. "I started playing golf tournaments when I was 5 and I started playing golf for fun when I was 2," she said.
Gabby's parents help her out with anything about golf. They support her with all of the ideas that are going on in Gabby's mind and are always there for her. "My dad. He always helps me. He has always been my coach and he is the person who got me into golf," she said, "My mom also helps me emotionally but my dad helps me because he knows everything about it."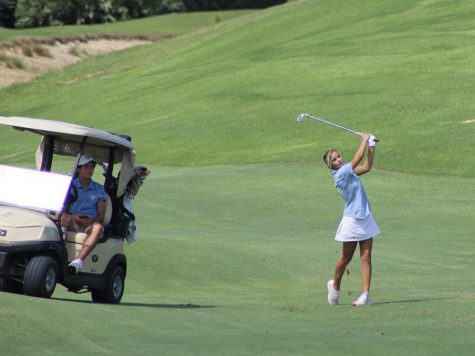 Though Degasperis is a great athlete, she is also an amazing student. "I want to get into a D1 college for golf and somewhere where I would get into for academics."
Being a star player on varsity is an accomplishment. With the way she is playing right now, there is no doubt that a collegiate golf career is more than par for the course.
View Comments (2)