MLB Preview
Major League Baseball season, otherwise known as America's favorite pastime, is now underway with its full, 162-game season. So far, there have been many surprises early on, and The Neersyde is here to give you its predictions for each division winner and its wild card picks in both the American and National Leagues. Let's start with the junior circuit:
American League
Boston Red Sox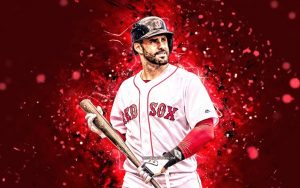 The Red Sox don't have the same firepower they had in previous years such as their most recent World Series run in 2018. However, despite losing All-Star center fielder Mookie Betts (now an L.A. Dodger), Boston's offense has been tops in the AL this year with DH J.D. Martinez and shortstop Xander Bogaerts hitting almost .400. Once this team gets ace Chris Sale back on the mound, the Sox are going to be even better. Watch out for Boston down the stretch.
Kansas City Royals
Although the Royals have been on a pretty big losing skid and currently sit four games below .500, I think they will make a run and eventually win their division. Left fielder Andrew Benintendi, with a batting average of .281, has been a very good addition to this team. Catcher Salvador Perez has also been a scary threat with nine home runs so far this year. Starting pitcher Danny Duffy, although he has lacked run support early on, has an ERA under two. If the rest of the pitching can be decent and the Royals can generate some more offense, they should be able to win the division.
Seattle Mariners
The Mariners sat on top of the division for a while, but after dropping a couple of games they have slid to third. Their hitting has been very good so far with first baseman Mitch Haniger already with 10 home runs. I think they will get out of their current funk, and if they do, they will be a serious World Series threat.
AL Division Winners
American League East Winner
Boston Red Sox
American League Central
Kansas City Royals
American League West
Seattle Mariners
Wildcards
Houston Astros & Tampa Bay Rays
National League
New York Mets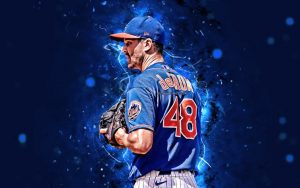 This team is getting better and better by the game. It all came together when All-Star shortstop Francisco Lindor was acquired traded from the Indians (along with starting pitcher Carlos Carrasco) in the offseason. This season, starting pitcher Jacob deGrom is the best pitcher in the league by far, with a 0.68 ERA (tops in both leagues) and 65 strikeouts (fifth in the NL). First baseman Pete Alonso is having a great season also, with .259 batting average and five home runs. The NL is competitive this year, but I think this team could definitely make a run for the top spot.
Milwaukee Brewers
With Christian Yelich injured, this team has shown a lot of heart to keep themselves within striking distance to still win the division. Third baseman Travis Shaw has led the Brew Crew in RBIs with 24, and center fielder Avisail Garcia has led the team in batting with a .265 average and five homers.
Los Angeles Dodgers
Last year's World Series champions have been one of the best teams in baseball so far. Third baseman Justin Turner is hitting almost .400, and that is very dangerous for opposing teams given that he is also their home run leader. All-Star outfielder Mookie Betts is one of the best players in baseball, and would like to lead his team to back-to-back championships.
NL Division Winners
National League East
New York Mets
National League Central
Milwaukee Brewers
National League West
Los Angeles Dodgers
Wildcards
Philadelphia Phillies and San Francisco Giants
World Series Pick
Dodgers vs. Red Sox
Dodgers in 5
View Comments (1)