Girls' Soccer and Boys' Eighth-Grade Basketball Post Perfect Seasons
Girls Soccer and Eighth-Grade Boys basketball Seasons Come to a Close
Same day, different champions. On Wednesday, February 19, the middle school girls' soccer team shut out Rosarian 3-0 at home to win their second consecutive league title. That same afternoon across town, the eighth-grade boys' basketball team bounced Berean Christian 47-29. The titles capped off undefeated seasons for both teams.
"Anytime you win them all, that is pretty impressive in itself," said Assistant Athletic Director Mr. Greg Keller. "Especially being as competitive as we are and also having the high academic standards, that's always extremely impressive to me, so that is the biggest thing I was impressed by."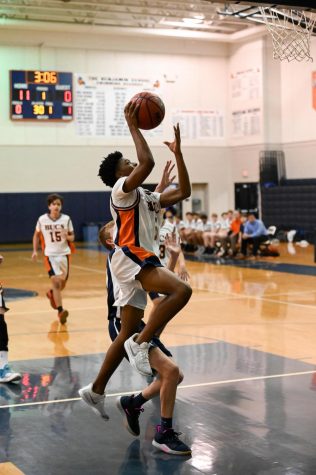 The key for both teams was teamwork and unselfish play.. "Everyone was really collaborative, and it was more of a team and not just individual players playing for themselves," said eighth-grade girls' soccer defender, Natalia Sampaio.
"We were very dominant because of great coaching, great teamwork, and great players," said eighth-grader Matthew Barron, the starting point guard for the boys' basketball team.  
For the soccer team, the girls' selfless play and encouragement of one another is what stood out the most to players and coaches.  "I am most proud of the fact that we are all friends and teammates at the same time, and that we all worked really well together," said eighth-grade defender, Grayson Murphy. "I think that's one of the reasons we won most of the games – it's because we had such good chemistry." 
"I am most proud of the way in which our soccer players supported one another this season," said Girls' Soccer Head Coach Mrs. Denise Ponchock "We have a very talented group of players, but no one was selfish or hubristic. Each player played to the best of her ability, and tried to bring out the best in her teammates." Though two very different sports, each team had one important thing in common this year: coaching. For the girls, it was Ponchock and History Department Chair Mrs. Anne Franzen. For the boys, it was Dean of Student Mr. Jeffrey Cavallo and Mr. Mike Yannotta. 
Over the past 10 years, the girl's soccer team has won eight championships while the boys' eighth-grade basketball team has won three titles in the past eight years. Both teams have now won consecutive league crowns. That doesn't just come from good players through the years. It comes from what Middle School Athletic Director Mr. Toby Harbeck considers some of the best coaches in the state. 
"I think coaching was the most important part of these great seasons because the players cannot win without good coaching," he said. Many of the players feel the same way.
"I think the coaching for our team was fantastic," said eighth-grader Wilson Stewart, one of the basketball team's small forwards.  "We were pushed to do better and better every game and practice. The coaches always had us in the right places and were ready for every possible thing that could happen in a game." "I thoroughly enjoyed being part of this team," said Cavallo. "I loved the passion and teamwork the boys showed this year.  It was a season to remember."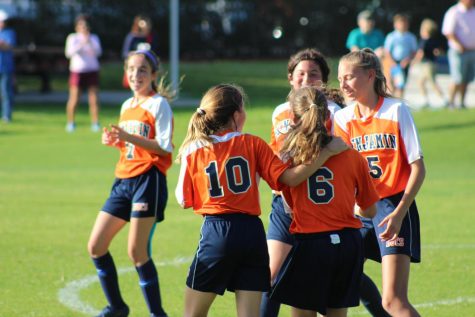 Of course, with both teams winning their respective league titles and going undefeated, one may ask which team was more impressive. On the one hand, the boys played more games and won each contest by double digits. On the other hand, the girls have had more consistent, long-term success.
For Harbeck, it's a wash. "Both seasons were ones to remember, and what's most important is the fact that four banners will be hung soon," said Harbeck – two for each championship and two for the respective undefeated seasons. 
Both teams were perfect this year, and you can't get much better than that.
Leave a Comment