Eat at Joe's
The Neersyde was there to cover the opening of the grocery chain's newest store
Attention!  Attention!  Read all about it! Trader Joe's has finally opened in our area.  The opening of Trader Joe's on Friday, September 19 was a fun and festive event which the entire staff of The Neersyde was fortunate enough to cover. There was an archway of red and white balloons adorning the entrance and the island sounds of a steel drum musician greeting the throngs of customers who were streaming into the store. Every employee wore blue Hawaiian shirts and the managers even had a different Hawaiian flower to represent their authority. There were free samples galore and rows and rows of fresh fruits, vegetables, and cheeses.
What is Trader Joe's?  It is a grocery store with wood-planked walls with specialty foods that are sold at great prices. The company has been around since 1958. That's fifty six years – older than many teachers here at the Benjamin Middle School.  It was started in Los Angeles, CA as a small non-chain store (originally called Pronto Markets), but now, there are over four hundred eighteen stores nationwide.  Some Trader Joe's are already scattered around the state: Boca Raton, Fort Lauderdale, Jacksonville Beach, and Winter Park, but the new store in the PGA Plaza (the corner of PGA Blvd. and Prosperity Farms Rd.). is the first of its kind in our community.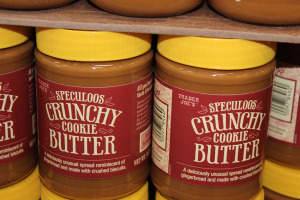 Open 8:00 am to 9:00 pm, Trader Joe's is actually adding five new stores in the South Florida area which are all opening between now and October 10.  "I am going to the opening, and I am very excited for the opening," said seventh grader Alec Adam.  "I used to go there when I was little before I moved to Florida."
According to a recent poll taken by 108 Benjamin middle school students, 58 percent said they were excited about the store's opening and 53 percent said they plan to visit the store in the next month.
When The Neersyde staff went to the opening on September 19, it witnessed a zoo of excited customers and loads of specialty Trader Joe's foods that cannot be found anywhere else.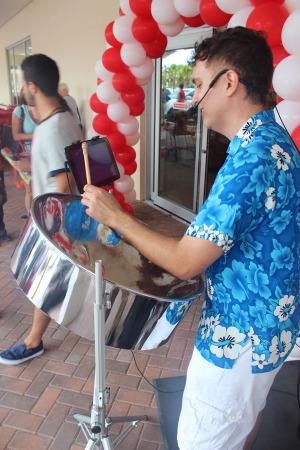 Mrs. Devine, English department chair and eighth-grade English teacher, summed up the sentiments of excitement surrounding this Trader Joe's opening. "I drove by the store this morning," she said. "If you are a foodie, Trader Joe's is the place for you! They provide another option to the specialty markets we already have in the area and offer amazing options not available elsewhere like specialty nuts and chocolates not available at Greenwise."
"I have been very excited for the grand opening for a year, and I've been to them up north and I love them," added Benjamin parent Elaine Seger who was on hand for the store's opening.
Another excited customer was Massachusetts native and now Florida resident Jon Olsson, who enjoys the variety Trader Joe's offers. "They have some things that you can't get anywhere else, and I live right down the street," he said.
However, the customers were not the only ones  excited about the store. "I like to think it's a real fun place to work," commented August Lightfoot, one of the store's managers.  "We give customers an opportunity to become informed and make important decisions on the kinds of products they want to buy and eat."
"This is the best job I have ever had," quipped one female employee who was working at the cash register. Those who manage of PGA Plaza were also pleased to see the heavy traffic that Trader Joe's helped create, especially since they footed the bill to give the plaza a facelift to lure the new store to their property.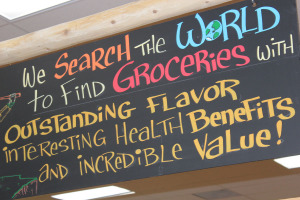 Matt Bluefield, Vice President of Development for PGA Plaza, said "[Trader Joe's is] a very well known national tenant, a loyal following.  It's good to bring new retailers to the area. It will bring more people to PGA Boulevard."
"They rebuilt the whole [PGA Plaza] just because they were so excited about Trader Joe's," explained TJ employee Joe Meyer.
So now the wait is over – Trader Joe's is finally here, bringing it's own unique brand of foods and flavors to our already diverse South Florida culture. The parking lot may crowded and the registers may have long lines, but the number of people filling the store on Friday provided a single, collective testimony: it's worth the wait.
Leave a Comment