College Football Playoff Preview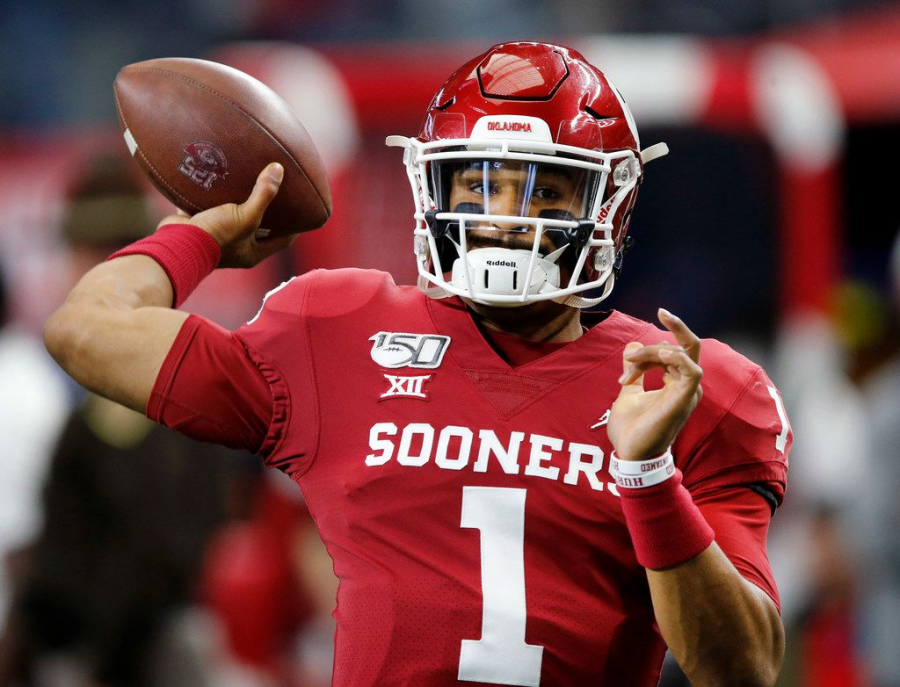 Besides the ball-drop and the partying, New Year's Eve is known and loved for something else: the College Football Playoffs (CFP). With college football becoming one of the most popular sports in America, almost every fan of the sport will be watching the bowl games and playoff matchups which start on Friday, December 20 with the Makers Wanted Bahamas Bowl. 
This past week was the conference championships. This included number one Ohio State vs. number eight Wisconsin, number two LSU vs. number four Georgia, number three Clemson vs number twenty-three Virginia, number five Utah vs. number thirteen Oregon, and number six Oklahoma vs. number seven Baylor. Ohio State, LSU, Clemson, Oregon, and Oklahoma were the winners of these games. This means that Georgia, Baylor, and Oregon were all eliminated from the College Football Playoff. 
On Sunday, the College Football Playoff Committee chose the four playoff teams. There were no real surprises, except for Alabama not making it for the first time since the start of the College Football Playoffs in 2014. The four playoff teams are number one LSU, number two Ohio State, number three Clemson, and number four Oklahoma. This means that LSU will play Oklahoma in the Chick-fil-A Peach Bowl, and Ohio State will play Clemson in the PlayStation Fiesta Bowl. Both of these games are on December 28.
As the semi-final games close in, The Neersyde takes a look at each of the four contenders' strengths and weaknesses, and why these are the top four teams in the nation. 
#1 OHIO STATE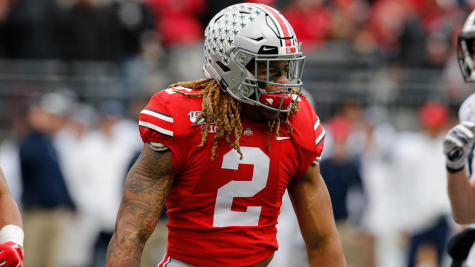 Ohio State has been a top ten team for this entire decade. This year though, they finally look ready to contend for the national championship. They are led by their new quarterback Justin Fields (sophomore), who transferred from Georgia less than a year ago. He has thrown for over 2,600 yards, 37 touchdowns, and only one interception this year. He has also rushed for almost 500 yards and ten touchdowns. They also have running back J.K. Dobbins who has rushed for over 1,600 yards and has nineteen touchdowns. Both these players contribute to the50 points per game they are averaging this season. On the defensive side of the ball, they are led by superstar pass rusher Chase Young. He has sixteen and a half sacks and seven forced fumbles. They are also led by new head coach Ryan Day, who took over this year after Urban Meyer retired. With all of their talent, Ohio State will be a formidable opponent for Clemson, the CFP's reigning champ.
#2 LSU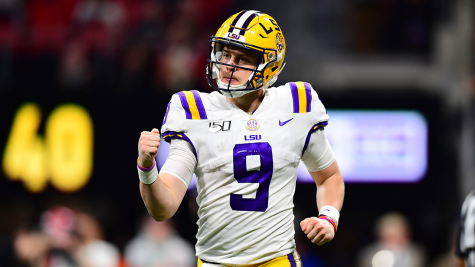 LSU has been one of the biggest surprises this year. They have always been decent, but this is the first year that they have been in discussion for the playoffs in a number of years. They are led by star junior quarterback Joe Burrow who just became the school's all-time leader in passing yards and passing touchdowns. This year, Burrow has thrown for over 4,300 yards, 44 touchdowns, and only six interceptions. They also have running back Clyde Edwards-Helaire, who has run for over 1,200 yards and 16 touchdowns. Joe Burrow could not have had this much success without his two-star receivers, Ja'Marr Chase and Justin Jefferson. Chase has over 1,400 receiving yards and 17 receiving touchdowns this year while Jefferson has almost 1,100 receiving yards and 13 receiving touchdowns. All of these players contribute to LSU's 49 points per game. They also have one of the best coaches in all of college football in Ed Orgeron. 
#3 CLEMSON
 Clemson has been in championship contention for the past five years. They have had great quarterbacks for the past five years as well, including current Houston Texans star Deshaun Watson and current sophomore QB Trevor Lawrence. All of their success this year starts with Lawrence and their air attack. The offense averages 541 yards per game, good enough for third in the nation, and the Tigers have the 10th best rushing offense and 25th best passing offense. Lawrence is throwing to projected first-round pick Tee Higgins and sophomore Justyn Ross. The ground game is also great with running back Travis Etienne who has rushed for 1,300 yards and 16 touchdowns.  Their defense is impressive, too, as the Tigers only give up ten points per game which ranks first in the nation. They allow 233 yards per game which is second in the nation behind only Ohio State. Linebacker-safety hybrid Isaiah Simmons is a projected first-round pick and has 84 tackles and six sacks this season. Cornerback Tanner Muse leads the team with four interceptions on the year, and a handful of other players have one or two picks.Clemson Tigers is one of the most dangerous teams in the nation, not only because of their players, but because of Head Coach Dabo Swinney who has been one of the best coaches in the country in the last few years.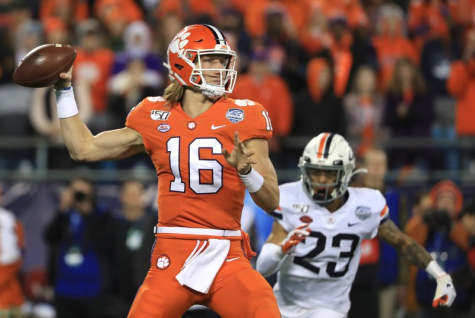 #4 OKLAHOMA
Oklahoma is making its third-straight playoff appearance.. The Sooners have produced the last two Heisman Trophy winners (quarterbacks Baker Mayfield and Kyler Murray), and are looking for another one with standout player Jalen Hurts (Senior). After transferring from Alabama last Spring, Hurts has fit into this high-paced offense very nicely. He can pass and run the ball (he has more than 3,300 passing yards and over 1,200 rushing yards), as he has accounted for 49 total touchdowns this year. They also have star receiver Ceedee Lamb, who has over 1,000 receiving yards and 14 touchdowns. They are basically the opposite of Utah (because Utah has a bad offense and a great defense), but nonetheless, a very talented team that is a worthy contender. They are also led by head coach Lincoln Riley, another top coach in the nation.
Best games to watch in the next month (December 14, 2019, to January 13, 2019):
Saturday, December 14:
Saturday, December 28:
17 Memphis vs 10 Penn State- Goodyear Cotton Bowl Classic 

4 Oklahoma vs 1 LSU- Chick-fil-A Peach Bowl (CFP Semifinal)

3 Clemson vs 2 Ohio State- PlayStation Fiesta Bowl (CFP Semifinal)
Monday, December 30:
24 Virginia vs 9 Florida- Capital One Orange Bowl
Wednesday, January 1:
18 Minnesota vs 12 Auburn- Outback Bowl

14 Michigan vs 13 Alabama- VRBO Citrus Bowl

6 Oregon vs 8 Wisconsin- Rose Bowl Game presented by Northwestern Mutual

5 Georgia vs 7 Baylor- Allstate Sugar Bowl
Monday, January 13
TBD vs TBD- CFP National Championship
Here are our picks for the College Football Playoffs:
Joey Tomassetti: 
LSU will beat Oklahoma 48-31. These two teams are offensive juggernauts, which will make it a very fast-paced, high-scoring game. LSU has the slightly better defense to counter Jalen Hurts and Lincoln Riley, which is why they will move on the national championship. 

Clemson will beat Ohio State 31-24. This game will be a much lower scoring game and a much more competitive battle since both teams are top in the country in defense. Clemson does have the slightly better offense, which is why they will prevail. 

Clemson will beat LSU 34-27 in the National Championship. This should be a very enjoyable matchup with a high-power offense facing a destructive defense. In the end, the Tigers in orange will end up containing Joe Burrow and the Tigers in yellow, claiming Clemson's second straight title.
Zach Smith: 
LSU will beat Oklahoma 55-48. Both teams have high power offenses, it comes down to who can get a stop first, and I think LSU will. 

Clemson will beat Ohio State 28-24 in a much more grind-it-out game, but Clemson has a better offense and more experience. 

Clemson will defeat LSU 30-24 in the national championship because Clemson has much more experience and the best defense in the country.