British Brothers Make Transition from Rugby to Football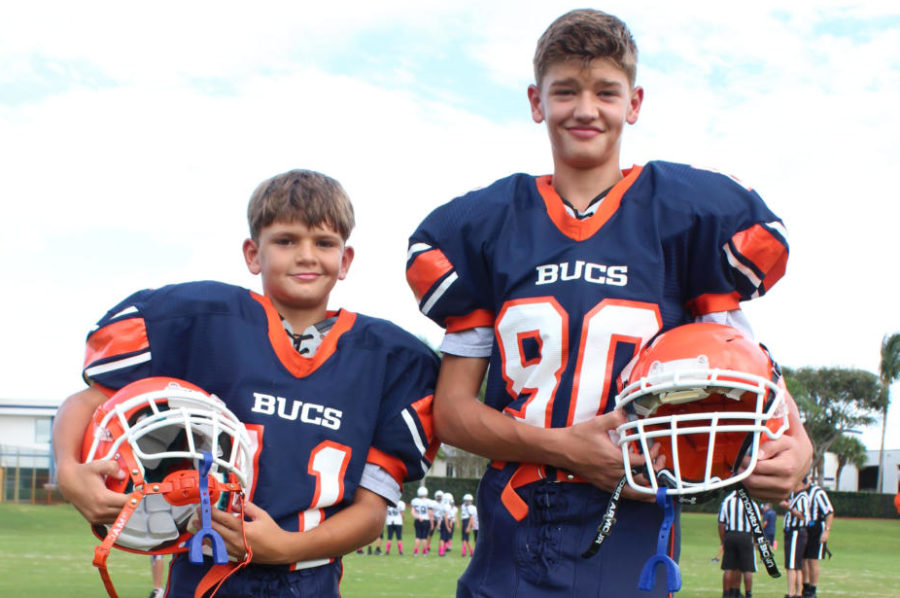 A lineout, maul, or ruck are not terms you usually hear during a middle school football game, but, then again, it's rare to find British boys playing the pugilistic American game. However, that's exactly the case with Joshua and Julian Luiz.  The two brothers, in their first year at TBS and in grades eight and six, respectively, grew up playing rugby. Although football season is now over, they successfully transferred their talents from the pitch to the gridiron, proving they are quick studies. 
"They both played a sport before they came here that was very physical –  rugby – so they bring that physicality," said Middle School Head Football Coach Mr. Gregory Keller.  "They are also extremely intelligent and have speed." 
Rugby players since they were four years old, Josh was the starting outside linebacker, member of the offensive line, and running-back, and, according to Keller, can play almost anything. Julian is one of only a handful of sixth graders who played on the team and came off the bench as running back and cornerback.
The Luiz brothers moved from England to Florida earlier this year, which is a big enough difference in and of itself.  "I like the weather because it is nice and warm [here], but I miss having four seasons," said Josh. "I also miss my friends and family."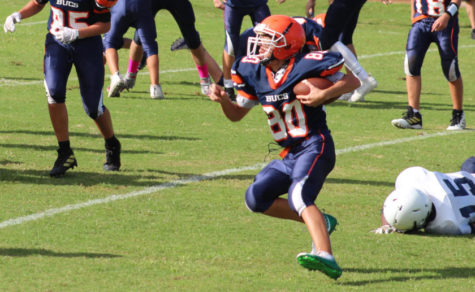 Because football evolved from rugby, the two sports are similar. Both employ balls of similar size and shape, as well as passing, running with the ball, tackling, and kicking the ball through a set of goal posts. The opposing teams in both sports also try to stop the attacking team by tackling and getting possession of the ball. However, there are a number of differences.
Rugby requires 15 players per team as opposed to 11 in football, and points are awarded for a try, conversion, penalty kick, and drop ball as opposed to a touchdown, field goal, extra point, two-point conversion, or safety in football. In addition, there are no "downs" in rugby, and while the ball can never be passed forward, players can run forward with the ball or kick the ball forward to chase it down. Furthermore, there are no timeouts in rugby, unless the referee allows for a one minute break for an injured player to decide if he is going to continue playing. Rugby players also wear a lot less padding than football players – there are no helmets or shoulder pads – and rugby is more of an international game as it is played in several different countries such as Scotland, South Africa, France, and Australia.
The similarities are enough, though, that the boys were able to adjust to the game of football.
"Just learning the rules only took me a couple of days to understand what I was doing and [learning] the different positions," said Josh.
One of the biggest things the boys had to get used to was the equipment. "The biggest change going from rugby to football is wearing the pads because [they are] more bulky and you run slower," said Julian.
Josh and Julian didn't just learn about football by themselves. They had help from Keller and his team of coaches. 
"They were very helpful, they told me what positions to play, and told me how to tackle," said Josh. "You have to block and tackle straight away, which was quite challenging because I didn't know how to block. I really like how coach Keller helps me with blocking, which is different [because] you don't have blocking in rugby," Josh said. "He is also very passionate about what he does, so it is nice to have him as a coach." 
Josh and Julian's teammates have welcomed them into the fold and have even learned a thing or two about rugby along the way.
"It's really fun because they have a different way of viewing the game," said eighth-grade teammate Colby Mack. "In rugby there is no forward passes – you throw the ball behind you, and then run forwards. Whereas in football, you throw the ball and run forwards. The way they throw the ball is really different, they have one hand on the bottom and one hand on the top, and they sort of spin it."
Other teammates have noticed Josh and Julian's close bond.
"They have great leadership and they don't fight a lot, surprisingly, because they are brothers and they are really good friends," said fellow eighth-grade teammate Micah Griffith.
The boys have transitioned well as they have settled in to a new school, a new sport, and a new home within the TBS community.