Ultimate Frisbee Infuses Some Fun into Advisory Time
Advisory time just got a little better. Look, there's nothing wrong with being with your peers in your classroom and discussing the Benjamin character traits or planning your group's next community service project. However, thanks to Student Services Counselor Ms. Danielle Benvenuto, advisory time received a little jolt with the grade-level ultimate frisbee competitions.
"I set up this event to help students bond with one another and work on their friendships, teamwork, and social skills," said Benvenuto.
The eighth graders got first crack at it, and it was a great experience not just for that particular grade, but for the sixth and seventh-grade advisories as well because they were able to come out and watch the competitions on Kennerly Field.  For those unfamiliar with the game, ultimate frisbee is very much like football, but with a frisbee (and without the tackling). Players can't run with the frisbee, though. They must throw it to teammates while avoiding defenders, and a "touchdown" results when a player catches the frisbee in the endzone.The single-elimination tournament, where the winners move on and keep playing, resulted in Ms. McAllister's advisory beating Mr. Oster's in the championship.
"I really liked playing ultimate frisbee," said eighth grader Darren Dharia, a member of McAllister's group.  "It felt rewarding to win the whole thing, and it was just a fun experience."
The eighth-grade games had the other middle school students itching to play.
"I'm definitely excited for the event because I love ultimate frisbee, but it's going to be a while until it's our turn," said seventh grader Abby Spunar. "I am jealous watching the eighth graders play but yes, I am still excited. It's a great idea."
"I think that the event is a good idea," added fellow seventh grader Robert Letsche, "and I love ultimate frisbee. I can spend time with my friends in my advisory. I hope they continue the event next year."
While many students enjoyed getting to go outside during advisory for some fresh air, exercise, and friendly competition, some had feedback about how it could be improved.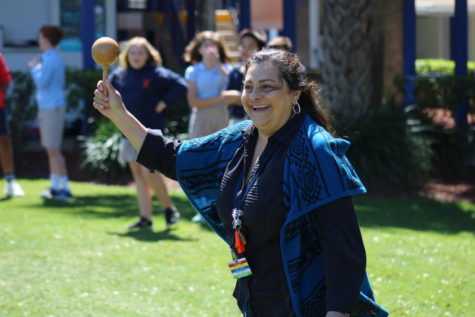 "I did like the idea of ultimate frisbee and how it let the students have fun, but I would like another tournament for the groups that lost," said eighth grader Jasper Wright.   "[Also], I would have prefered that the students vote on a better sport so that we would have a choice for what we want to do."
"It was a good idea that students are able to do this, but I personally don't care for frisbee," said sixth grader Andrew Shim. "I am excited to see if they can make it more interesting for me next year."
Whether students are fans of ultimate frisbee or not, the games are still a nice change from the regular advisory times in the morning and before lunch. It allows students to be active, enjoy the outdoors, and compete with and against their friends.
Who knows? Maybe this will be the first of many different advisory competitions in the years to come.
"I really hope to do this activity next year with a similar sport to frisbee," said Benvenuto. Will it be wiffle ball? Soccer? Football? We'll just have to wait and see.
Leave a Comment