Mr. Varsity
Eighth grader Marvel Allen has made a name for himself playing varsity basketball for the Bucs this year.
It's not unusual for a middle schooler to play on a varsity team. It happens in many sports here at TBS: track and field, swimming, softball, tennis, etc. However, eighth-grader Marvel Allen is the first-ever middle schooler at The Benjamin School to play on the varsity basketball team. Not only does he play, but the 6'4″ fourteen-year-old starts for the Buccaneers.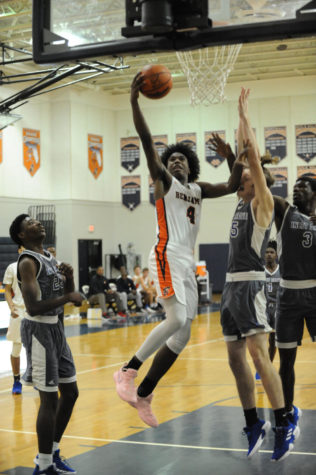 To do so takes an enormous amount of talent and maturity. According to Allen's teammates, he possesses both. "As an eighth-grader, Marvel has surprised me with how mature and poised someone that young can be,"  said fellow teammate Daniel McCullon '20. "Being an eighth grader on varsity with his skill is very rare."
Allen's work ethic has been impressive, too.
"Every day he always brings a smile and works his hardest on the court," said McCullon. "He adapts to the situations around him and has gelled well with our varsity basketball team in the single season he's been with us. Marvel treats [being on the varsity team] as just playing the game of basketball, forgetting [his] age, and [he] just competes while having fun on the court."
Marvel is appreciated by his coaches as well."[Marvel caught my eye] from travel basketball, and other practices even before he became a Benjamin student," said assistant coach Mr. Bernard Arnette.  "[His work ethic] is relentless, he really works hard. I really think that if it is his true desire, he could easily be a top ten college player and even a professional basketball player." Allen's drive to play basketball came from his desire to follow in his father's footsteps. Mr. Marvin Allen, Marvel's father, played junior college basketball at Daytona Beach Community College in the mid-90s.  
However, Marvel wasn't always one of the best players on the court.
"I wanted to take basketball to a varsity level because when I was little, I was smaller than everybody, and I used to be bad, and I just wanted to be the best ever," said Allen. "I worked hard to get to the level I am right now by setting a schedule. Every day I would set a schedule. I would wake up and in the afternoon and evening, I would train with my dad. I have private trainers. Every now and then I would train with them. I went to camps where the competition was great. There were many other players that were as good as me. This helped me compete better."
That hard work seems to be paying off as Allen is currently averaging 13 points, four rebounds, three assists, and two steals per game for the Bucs, who are 9-5 and looking forward to making another run into the postseason.
Allen knows, though, that his accomplishments on the court have a lot to do with the people who have helped him along the way.
"My dad, coaches, and training helped me get to the level I am at right now," he said. "My dad used to take time out to go to the courts with me to practice every day. The coaches asked me to get on a varsity team because I am competitive and I can compete at [that] level."
This is Allen's first year at TBS, his first year at an independent school, and his first year competing at a varsity level.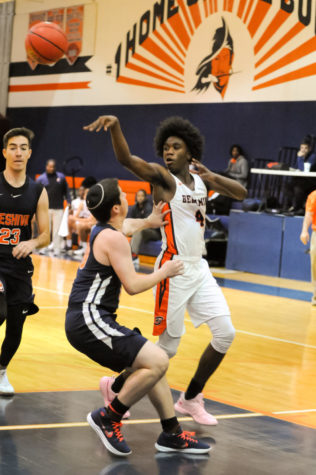 "I used to go to Polo Park Middle school in Wellington, Florida, " said Allen. "This is my first year on a varsity team because, in public school, they do not allow middle schoolers to compete at a varsity level. You would have to be at least in ninth grade."
Middle School Athletic Director Mr. Toby Harbeck sees nothing wrong with Allen playing with older students on the varsity team.
"I believe if you are very smart and have the capability to take a very advanced class [as a student], you should be able to move up to a varsity level if you have the skills as an athlete," said Harbeck. "That's a reason why people like attending this school."
Despite it being his first year at TBS, Allen has found a home in the Middle School. "Marvel is one of the finest young people I have met in a long time," said Head of Middle School Mr. Charles Hagy. "He is a really great addition to our eighth-grade class, [and] I think he is terrific."
Allen also took up football this year, a sport he is suited for due to his speed, size, and agility.
"Other than basketball, I play football because it is fun. I am fast and I can catch the ball, so why not play it?"
Allen was a member of the seventh and eighth-grade Benjamin football team that went undefeated this year. He played z-back (an RB and receiver hybrid), and helped the team achieve its first undefeated season in nine years.
In terms of his future, Allen would ultimately like to play in the NBA.
"I want to be in the NBA and be a professional player, and eventually have kids of my own and take care of them," said Allen. "If the NBA does not work out, I would want to try to get into law school, get my bachelor's and master's degrees, [and] I also want to try project management."
 Whatever is in store for Allen's future, the ball is in his court. He's already proven that he possesses the skills, tenacity, and work ethic to accomplish his goals, even as an eighth grader.
Leave a Comment