Looking for A New Phone? Here's Your Guide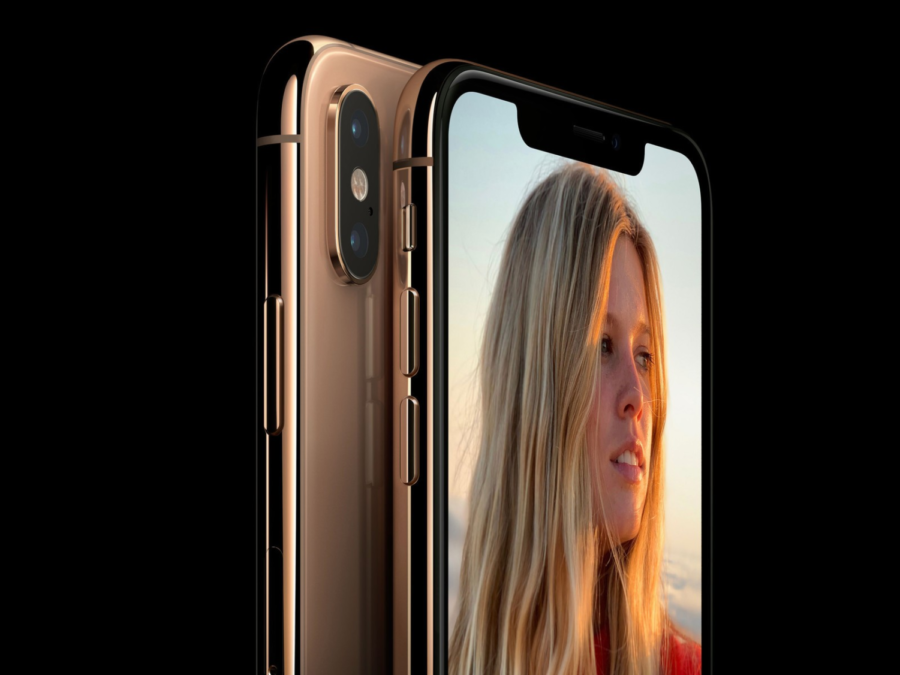 With brand new technology such as OLED (Organic Light Emitting Diodes) screen panels for more brightness and color, faster chips, longer battery life, and even more storage, it is getting more and more difficult to choose a phone. Some new phones on the market right now are Apple's iPhone Xs, iPhone Xs Max, Samsung Galaxy Note 9, and the Google Pixel 3. Let's take a look at each of these models and how they compare.
The iPhone Xs and Xs Max come in three colors: space gray, silver, and gold. The body of the iPhone comes with stainless steel borders and a glass back, which allows for wireless charging.
Many students enjoy the iPhone's body. "Stainless steel lasts forever; it doesn't rust," said eighth-grader Andrew Moffitt.  "Of course, it costs more, but you pay for what you get."
The iPhone's screen is a Super Retina OLED display with a 1-million-to-1 color contrast ratio, which results in 600 times more color contrast than a traditional LCD display. The iPhone Xs has a 5.8-inch display, and the iPhone Xs Max has a 6.5-inch display, the largest display ever for an iPhone. Both have a 458 ppi (pixels per inch) screen, which results in a higher resolution display than pevious iPhones.
Inside, Apple installed the industry's first seven-nanometer chip (which gives more room for other components), called the A12 Bionic. The new iPhones also have an IP68 water resistance rating, which allows them to be underwater up to two meters for 30 minutes. Not only are iPhones protected from water damage, but they have been tested and proven to be coffee-resistant, tea-resistant, soda-resistant, and even beer-resistant.
However, there are some downsides to this phone that some people may not like. Just like its predecessor, the iPhone X, the new iPhones will continue to have the notch at the top of the screen, which definitely blocks some content if you are watching videos in fullscreen. To many people, this is one downside of the iPhone. However, the reason for this notch is for the capability of Face ID. Face ID is a way that the iPhone can recognize your face to unlock your phone.
"[The notch] doesn't bother me at all," said eighth-grader Aadi Patel.  "It's a good tradeoff for facial recognition."
Apple has improved their Face ID hardware to make it faster since many people have had complaints about the speed. Face ID comes with a dot projector and infrared camera for super accurate scans, as well as a flood illuminator, the last of which allows Face ID to work in the dark.
All of this new tech comes with a hefty price tag. The iPhone Xs starts at $1,000 with 64 gigabytes of storage, $1,149 for 256 gigabytes of storage, and $1,349 for 512 gigabytes of storage. The iPhone Xs Max starts at $1,099 with 64 gigabytes of storage, $1,249 for 256 gigabytes of storage, and $1,449 for 512 gigabytes of storage. Tim Cook, CEO of Apple, said in an interview with Good Morning America that the price is very reasonable if one pays for it monthly.
Cook announced, "…if you look at even the phone that's priced over $1,000, most people pay about $30 a month for it, so it's about a dollar a day."
Cook also said it is a very reasonable price looking at a perspective of all the items that a phone can replace.
"If you look at it, the phone has replaced your digital camera [and] it's replaced your video camera," Cook said, indicating that quality comes with a price. "We found that people want to have the most innovative product available and it's not cheap to do that. We've never been about selling the most, it's about selling the best."
Despite Cook's words, people have reported many problems with the new iPhones. The most recent problems are known as Beautygate and Chargegate, a reference to any scandal needing the "gate" moniker a la Watergate.  
Beautygate is an automatic filter for photos which smooths one's face, so it looks beautiful, but a bit too polished, which many people dislike. The camera was meant to take out shadows in a photo to make the picture look better, but there have been malfunctions with this software. Apple never mentioned this smoothing effect in their event which unveiled the iPhones. However, they have recently fixed the issue.
Another issue that's been fixed is the charging feature. Usually, one can plug a charger into the iPhone and it starts charging right away. The problem with the new phones is that one would have to turn the phone on for it to start charging. Apple says this problem has also been fixed via its new software update.
One of Apple's main competitors is Samsung, which recently introduced its flagship phone, the Samsung Galaxy Note 9. The Note 9 comes in four colors: ocean blue, lavender purple, cloud silver, and midnight black.
Despite their wide range of colors, their design does not meet many students' standards. The camera is a little bit larger than the iPhone's camera with a rectangular design, and it has aluminum borders instead of stainless steel. "I think Samsung's phones are ugly because of their camera design," said seventh-grader Sofia Abbonizio.
The Note 9 has a 6.4 inch OLED display and 544 ppi, which rivals Apple's phones with 458 ppi. It costs $999 for 128 GB of storage and $1,249 for 512 GB of storage. The Note 9 also features an expandable storage with a micro SD card slot, unlike Apple.
Samsung also has an exclusive deal with the video game Fortnite. Whoever buys the Note 9 will also get a free Fortnite skin called the Galaxy skin.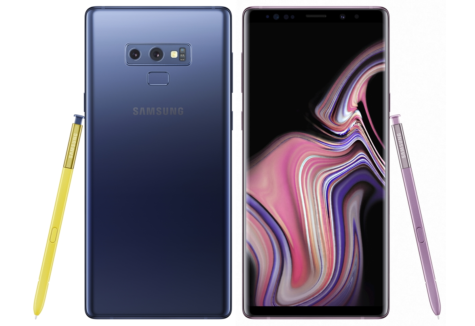 "The only thing I like about Samsung is that you can get the Galaxy Skin," said sixth-grader RJ Sahm. "Samsung doesn't have better software than Apple."
The Note 9 also comes with the latest Snapdragon 845 chip, by which many Android phones are powered. "I think the [Snapdragon 845] is better because it's been optimized for more phones," said eighth-grader Jonathan Skatoff. "The A12 Bionic is just for Apple."
Patel, who strongly disagrees with Skatoff's statement, said, "The A12 is proven to be more advanced and faster than the Snapdragon 845."
The Note 9 has 8GB of RAM (Random Access Memory), which enables a device to operate several functions at one time. In other words, it makes the phone faster. Apple's new phones only have 4GB of RAM.
These are key features for some customers. Skatoff stated, "[I like that] you can get 8 gigabytes of RAM and 512 gigabytes of storage [included with] expandable [storage] up to one terabyte, unlike Apple."
Although the Note 9 has double the RAM of the iPhone, some students don't believe they will see a contrast in speed. Patel says, "I don't mind [the RAM difference] because I don't think the difference in speed is noticeable."
The Note 9 has a 4,000 mAh (milliAmperes/hour) battery, which measures how much capacity a battery has, rivaling Apple's Xs Max, with only a 3,174 mAh battery. Although the Note 9 has a whopping 20% larger battery than the iPhone, users thought that Apple's advanced A12 Bionic chip would help manage its battery life as well as the Note 9 does. Phonebuff, a tech Youtube channel, did a battery life test between the iPhone Xs Max and the Note 9. The test consisted of common tasks such as phone calls, texting, gaming, searching the web, and more. Phonebuff did the test twice and saw the same results: the Note 9's battery still had 37% when the iPhone XS Max died.
Some students are against the battery on Apple's phones. Seventh-grader Brynn Weisser commented, "[Samsung] is better quality. Apple [also] used to make the battery worse on older iPhones, so you'd have to buy their new phones."
The Note 9 also comes with a stylus – the S Pen – which has a slot to insert it into the phone. The S Pen has a button that allows the phone to take a picture, be a clicker for a slideshow, and more.
The Note 9 also has an IP68 rating for water resistance, and a Face ID-like feature, called Intelligent Scan, along with an Iris scan, a fingerprint sensor, and a pattern. These give the users more options to unlock his or her phone.
A decision as to which software one will use plays a key role in deciding which phone to get.
"I like Apple better because it's more basic," said seventh-grader Sloane McIlvaine. Samsung has software that is way too complicated."
However, some people also like Samsung better. Skatoff says, "I prefer the software on the Samsung's over iOS."
The Pixel lineup by Google is also making a push into the phone market. Recently, Google announced their new Pixel 3 and Pixel 3 XL. The phones come in three colors: just black, clearly white, and not pink. The phones have an aluminum border and a glass back which has two textures: regular glass and frosted glass, which looks like aluminum. The glass has a nice feel and look to it, but has been proven to be scratched easily.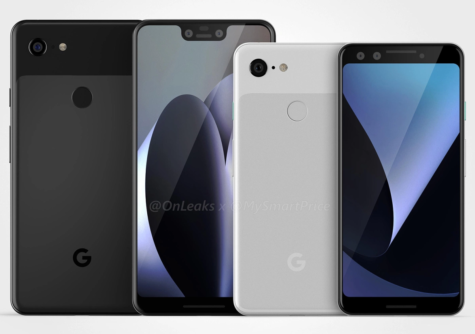 Many people have seen the Pixel 3's humorous commercials advertising its new features, one of which is the two lens front-facing camera. This allows for a wide-angle selfie, so everyone can fit into the picture without a selfie-stick. The camera also has a feature called TopShot. It can choose the best picture from a burst, which takes a group of photos in case someone blinks or you miss that perfect photographic moment (think cliff dives and birthday candle blowouts). Usually, someone would have to manually choose their favorite photo, but the Pixel automatically chooses the best shot.
There is also a feature called Night Sight which brightens photos in a dark area or at night. The Pixel takes up to 15 photos, depending on how dark it is, then combines them to get as much light as possible. The Pixel lineup has constantly won awards for best camera in a smartphone.
There are some negative comments about the Pixel 3, especially the XL version. The Pixel 3 XL has a near full-screen display with a notch, like the iPhone. However, many people are bothered by Google's chin on the bottom of the phone, which means the screen of the phone does not go to the very bottom of the Pixel. Some people can't get past Google's notch, which contains two front-facing cameras and a stereo speaker instead of facial recognition. Unlike the iPhone, the notch is not long and narrow, but a little wide and extremely tall. Many people dislike the design of the notch. There is even a software issue of the phone showing a second notch on the screen, even when there are pixels in that area.
The Pixel 3 lineup has a very fair price compared to its competitors. One reason for this is that the Pixel maxes out at 128GB of storage. However, for many people, 128GB is enough since the Google Photos app automatically stores photos and videos in the cloud, so it won't take up any storage. The Pixel 3 starts at $799 with 64GB of storage and goes up to $899 for 128GB of storage. The Pixel 3 XL starts at $899 with 64GB of storage and goes up to $999 for 128GB of storage.
Personally, my favorite phone is the iPhone Xs Max. I love the big screen size and the iOS software is easier to use in my opinion. The iPhone looks incredible aesthetically with shiny stainless steel borders and a glossy glass back. I think that the notch with Face ID makes the device futuristic looking, unlike a traditional design. I believe that Apple is an original company. They were the first company to add facial recognition to a smartphone (on the iPhone X), and then other companies such as Samsung followed their lead.
Apple is also the first mainstream company to make the notch. While some companies derided the notch, many have now given in and have a notch on their own phones. I am one of those people that strongly dislike the design of the notch. Although the selfie feature is great on the Google Pixel, I would rather have Face ID than two front-facing cameras and a stereo speaker. Many phones that have fullscreen have a virtual home button. The iPhone has intuitive gestures such as swiping, which I think is easier and faster than a home button.
Choosing a phone ultimately comes down to a consumer's needs and desires, so make your choice, but choose wisely.