Boys' Eighth and Sixth-Grade Basketball Teams Go Undefeated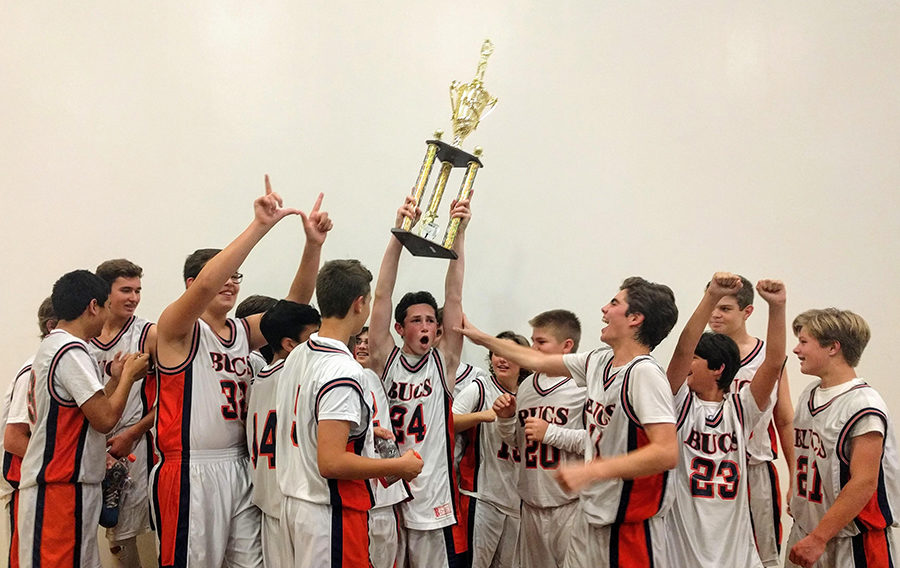 The winter season was another wildly successful one for Benjamin's middle school athletics, especially when it came to boys' basketball. Both the sixth-grade and eighth-grade teams went undefeated this year, assuring that the gym would have two new banners adorning its walls.
For the sixth grade, it was another season, another sport, another undefeated team. After going 6-0 in football this past fall, the sixth graders kept their streak alive by finishing undefeated in basketball as well. The team went 11-0 under the guidance of Co-Head Coaches Mr. Nicholas Crisafi and Mr. Charles Hagy. The team was led by a talented group of travel basketball players, including Max Mogilevsky, the team's starting small forward.
"I am really proud of our team because we aren't a tall team, but we just play our hearts out every day," said Mogilevsky.
Although the team was highly skilled, many of the players also gave credit to the coaches.
"They were a huge part of our success because they designed plays and lineups, and they made us become one well-oiled machine," said the team's starting shooting guard, Charlie Spungin.
The coaches, though, were eager to heap praise upon their student-athletes. "I think this was the most talented team I'veever coached here at Benjamin," said Crisafi. "A lot of the players played travel ball and have a lot of skill and basketball knowledge."
The eighth grade also had a spectacular season, capping it off with a dramatic come-from-behind victory in the Palm Beach Independent School
Athletics League championship against rival The King's Academy. "I was confident the whole game, but we were a little nervous in the middle of the game, especially when we were down by 11 points heading into the fourth quarter," said Head Coach Mr. Anthony DiGiovanni. "We started pressuring [the Lions] more and we acted like a whole different team because we had more confidence than we did to start the game."
That confidence may have been the difference as the Bucs, led by DiGiovanni and Assistant Coach Mr. Jeffrey Cavallo, sent the game to overtime and then pulled away in the extra frame, winning 44-39. "It was just like the Super Bowl," said Andrew Schwartz, one of the team's guards. Earlier that week, the New England Patriots recorded the biggest comeback in Super Bowl history as they clawed back from a 28-3 deficit to stun the Atlanta Falcons 34-28 in overtime.
"I thought we deserved [to go undefeated]," said starting point guard and team MVP Cole Jernstedt. "We put in the time and effort as a team because we wanted to show our coaches we were worthy."