The Snacks Are Back
The Buc Cafe is reopened for the first time COVID
The Buc Cafe, which opened for the first time since COVID last school year in February of 2022, is officially back for good. The sixth-grade students might have heard about the Buc Cafe, but do not really know what it is and have not had the opportunity to make use of it thus far.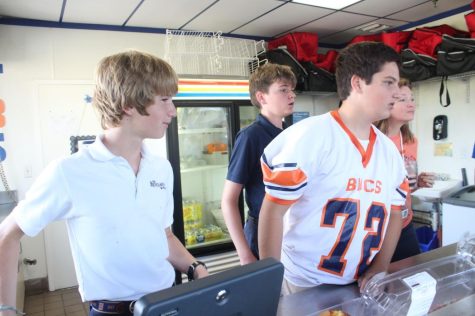 "The Buc Cafe is a place on campus where students, during school hours, pick up their lunches from parent volunteers and after school, during some sporting events the parents association sells items for the fundraiser," Middle School math teacher Lindsey Tanona said. "We, in Student Council, use it on late start Wednesday mornings to sell muffins from Costco as a fundraiser." 
The Buc Cafe is located in the Math & Science Building, facing Kennerly Field. The Buc Cafe has been operating since early this year to hand out lunches, and, more recently, the Student Council opened the Buc Cafe to sell muffins on the fourteenth of September. The money from the Buc Cafe is put to get things for the students, such as a water slide on field day. 
"We are [opening the Buc Cafe] so students can have food in the morning after a late start day so they can start off their day well after they just got to sleep in a little bit more," said eighth grader Thomas Harris. 
This means Student Council will be hard at work to make the Buc Cafe the best it can be. Many are also optimistic about the success of the Buc Cafe throughout the school year.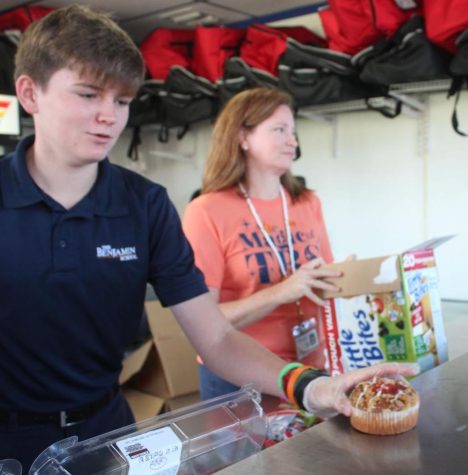 Sixth grader Johnny Ferguson added to this optimism. "I hope that [Student Council] will add a bigger variety of different foods and drinks because there will be more items to choose from," he says.
Also, some teachers share this optimistic view. 
"I'm optimistic that [the Buc Cafe] will turn out well," said Middle School history teacher Griffin Palmgren. "It seemed to run smoothly last year, and we've got a great set of kids working there this year. Mr. Ginnetty and Mrs. Tanona always do a great job, and I'm looking forward to seeing how it goes." 
There is reason to be optimistic about the Buc Cafe this year. The Vice President of the Student Council Max Wendler is enthusiastic about adding to the Buc Cafe. 
"I do really like that [Student Council is] going to put in other availability, like gluten-free stuff for other [students]. I would love it if there were drinks added, like cold Gatorade or hot chocolate," said Wendler. 
The Secretary of the Student Council Mason Coles is also ready to add to the Buc Cafe throughout the year. 
"I believe that there might be changes for the time of year. For November there might be pumpkin cookies," said Coles. 
Mason also thinks there might be hot chocolate during the winter, among other things. The Buc Cafe is set to expand its horizons and add many new things this school year. 
Leave a Comment