Pumped Up
First Pep Rally Of The School Year Is A Major Success!
On September 9, the Benjamin Middle School held a pep rally for the first time in the 2022-2023 school year. This pep rally was extremely exciting for each grade.
"I enjoyed that everyone was there, and we were all having fun," says seventh grader Beckett Yeary.
Before the pep rally started, the students came running into the gym. When it began, Dean of Students Mr. Nicholas Crisafi gave an energetic speech about how the students were off to a great start. Mr. Crisafi also announced all of the events that happened.
"I think that Mr. Crisafi is a very good motivational speaker, and he is taking on his role as the new dean very well," says seventh grader Isabella Anthon.
After firing up the students, the Middle School dance team, the Sparklers, entered the court and danced to the song "Wild" by LOLO. The dance team performed many amazing moves, including a signature kick line and a backflip. The students roared after the dancers finished their spectacular performance.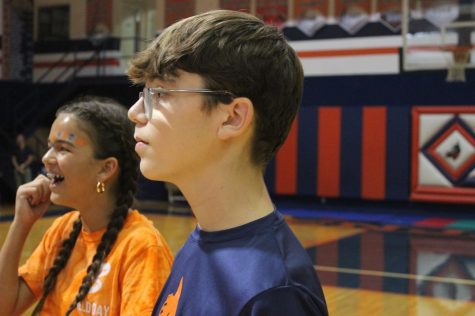 Once the Sparklers were done, Mr. Crisafi decided to have a freeze dance battle. He chose eighth graders Ryan Chait and Zeta Kujawa, and seventh graders Izzy Valencis, Isabella Anthon, and Maria Golucki. Mr. Crisafi also chose a few teachers such as seventh-grade math teacher Mr. Cosimo Marcantonio, Spanish teacher Mrs. Andrea Dumont, Spanish teacher Mr. Ricky Arias, and math teacher Mrs. Lindsey Tanona. After a fun and energetic dance battle, Mr. Marcantonio won.
"I enjoyed being called up and dancing for everyone," says eighth grader Ryan Chait who competed in the freeze dance battle. 
After the crowd calmed down, Mr. Crisafi announced that there would be a blue versus orange competition. Each team must race to an orange cone and come back to the starting line. However, it was not that simple. Each team must balance a ping pong ball on a spoon while wearing diving flippers and a football jersey. The blue team participants were eighth graders Landon Shepherd and Rita Janon, seventh graders Kamden Gilles and Isabella Lazo, and sixth graders Landey Sukhu and Zach Chait. Racing against the blue team were eighth graders Chase Atkins and Sloan Tuhoey, seventh graders Kinzie Bunting and Lukas Sluiters, and sixth graders Parker Tylander and Ella Ventzek. After a neck-to-neck race, the blue team won.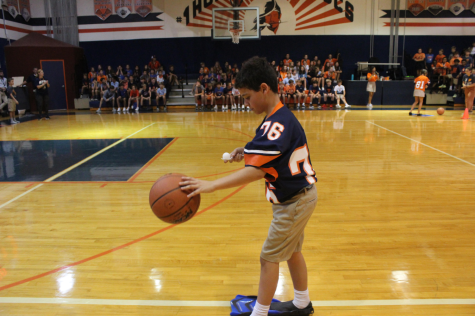 After this exciting event, Mr. Crisafi said that there would be one more event that the students could participate in called cup pong. Two representatives from the orange and blue teams from each grade would have to toss a ping pong ball into a cup back and forth. Representing the blue team were eighth graders Jayden Cosby-Mosley and Willow Staples, seventh graders Jahari Chin and Maddie Lemanksi, and sixth graders Scarlett Garland and John Jayson. Competing against the blue team were eighth graders Braxton Peterson and Summer Calix, seventh graders Misha Liberzon and Elle Sorenson, and sixth graders Luca Zaccagnino and Cece Hansen. The sixth graders won it for the orange team with only a few seconds left! 
To wrap up the pep rally, Mr. Crisafi said that seventh-grade English teacher Mr. Nathan Ginnetty would play the well-known northeastern song "Sweet Caroline" by Neil Diamond on his acoustic guitar and harmonica. Once the song began, the students instantly began to wave their arms in the air. The students also began to sing with Mr. Ginnetty.
This pep rally was not only fun and exciting for the students, but also for the teachers. It got the students pumped up for what was to come for the school year. The pep rally truly demonstrated Buccaneer pride.
Leave a Comment