TBS Alum Kaiir Elam Drafted by the Buffalo Bills
On April 28, 2022, Benjamin alum Kaiir Elam '19 was drafted twenty-third overall by the NFL's Buffalo Bills. This is not only a great accomplishment for the cornerback, who played three years at the University of Florida, but for the School and the Benjamin community as Elam is the first alumnus to be picked in the first round of the NFL Draft in the School's history.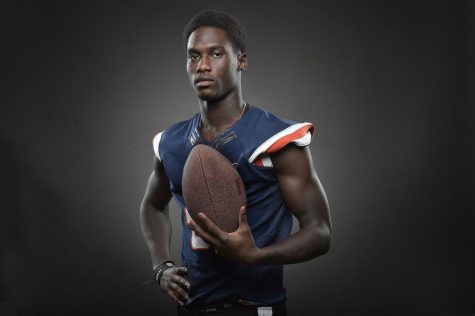 There is a diverse fanbase of NFL fans at TBS, including Bills fans eager to see a former Benjamin alum suit up for their favorite team.
"It feels like I have a special connection with the team knowing that [Elam] went to the same school as me, which is really cool," said eighth grader Madison Jayson, an avid Bills fan. 
Jayson believes Elam will only strengthen an already formidable Bills team. 
"He may not start right away, but he will make a difference on the defense," she said. "When they called him on draft night, one of the first things he said was to put the playbook on the airplane. He is committed to getting better and trusting the process already." 
At Benjamin, Elam was a star player and one of the highest ranked recruits coming out of Benjamin's football program. Although he was unranked at the beginning of his high school career, according to rivals.com, Elam was the sixty-third ranked recruit coming out of the 2019 high school football class. 
After playing at TBS, Elam attended the University of Florida where he started at cornerback for the Gators during his first three years, getting drafted at the end of his junior year. At Florida, he was the number one cornerback on the depth chart for the Gators. In 2020, he had eleven pass breakups which was first in the South Eastern Conference, and third most in the NCAA. Elam also had two interceptions in that 2020 season. 
Current TBS Athletic Director and former Bucs' football player and coach Mr. Ryan Smith had a hunch that Elam would make it to the NFL one day as he possesses the necessary skills to play at an elite level.
"Kaiir was fortunate to have all the physical and mental tools to be highly successful," said Smith. "He is extremely fast, tall for his position, quick, and also possesses mental toughness and intelligence." 
Elam also exhibited many leadership qualities in high school. 
"Kaiir was an exceptional leader," said Smith. "He was not necessarily vocal, but he always led by example, being one of the first on and last off the field for practices. He always worked as hard or harder than anyone else in practices." 
Although Mr. Eric Kresser, the head coach of the Bucs' varsity football team, could not be reached for comment, Smith noted that Kresser had a meaningful impact on Elam.
"Coach Kresser's experience as a D1 college and NFL football player was invaluable in giving advice to Kaiir," he said. "Coach Kresser served as a great mentor." 
Elam's family has also been a vital part of his success.  
"I believe a lot of Kaiir's success has to do with his family," said Smith. "He has an outstanding mom and dad, along with a supportive brother and extended family. His parents always put academics first, and made sure he was a respectful and responsible member of the community. His parents did an outstanding job raising Kaiir," said Smith.
Eighth grader  James Carpenter enjoyed watching Elam play when he was starting on defense for the Bucs. 
"It was really exciting watching him play because I watched him from five feet away for four years in high school, and I also watched play in front of thousands of people at [the University of] Florida." 
Carpenter also had a connection with  Elam which made watching him play even more special.
"I also know him personally, so it is really cool watching him play at that high of a level and him being a very important part of the team for all three years [that] he played at Florida," said Carpenter. 
The TBS community is cheering Elam as he gets ready to make his NFL debut, and one Bills fan has some words of advice for him. "I would tell him that everyone at Benjamin is really proud of him and that we are all cheering for him. Also, go Bills!" she said.
Leave a Comment