The Golf Team Looks to Dominate Once Again
The 2022 TBS golf season has finally started with its inaugural tryouts. This sport is different because it is the only sport in middle school where there are tryouts and cuts. This year, the tryouts concluded with ten players making the team: sixth grader Carson Lowe,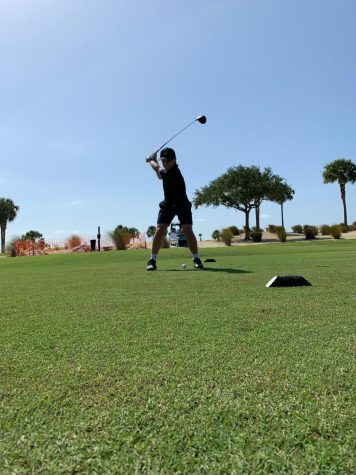 seventh graders Brendan Gelnaw, Colin Gelnaw, Joey Iaciofano, Maverick Mackenzie, Tommy Scotto, Andrew Stein, Charlie Woods, and eighth graders Reecie Hoben and Drew Sterling. Skillful play and hard work helped the Buccaneers fight through
tough winds that reached speeds of 40 mph, making the tryouts extra challenging for the players. 
The dynamic part about this sport is that it can be played in many different ways.
"I like how it is [both] an independent and team sport," said eighth grader Drew Sterling. When playing alone, one's score greatly affects how the team does. If everyone scores really well but an individual's score is poor, that score will weigh down the team's placement.
"You are the one that hits your shots and how you play can affect your team overall," said Sterling.
This year, the tryouts were closer than ever. There was a 5-way tie for the final two spots on the team, but, with two players being ineligible, there was an extra spot which went to seventh grader Maverick Mackenzie. 
Golf is a sport with a lots of ups and downs which can make it a humbling experience, but also prepare you for life. "What I love about golf is that it's an independent sport; you can go out there, you could make a putt, or you don't," said seventh grader Andrew Stein. 
For Head Coach Mr. Matthew Oster, the sport is enjoyable because it can be played no matter what your age. "The reason I love golf is because it is a sport for a lifetime," he said.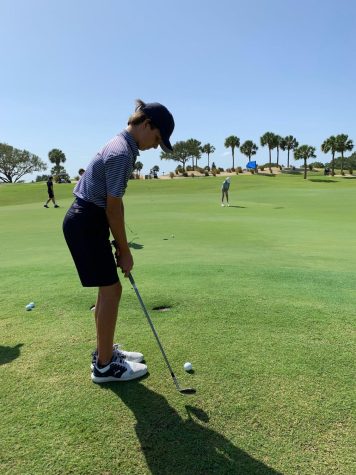 The middle school team is expected to be very competitive this year which is another exciting aspect for Oster.
"I am excited about this season because the Benjamin golf team gets to play against the best golf teams in South Florida," he said. 
With the season underway, the Bucs have only lost one match and have won the rest. However, the team will have to keep its head down and roll with the greens to stay successful. Either way, the lessons keep coming; let's hope the wins do, too.  Go Bucs!
Leave a Comment