The Barker Performing Arts Center Is Back
The Barker is back! Recently, Head of Middle School Mr. Charles Hagy announced during the division's weekly Zoom assembly on Monday, November 1 that the Barker Performing Arts Center (BPAC) is open yet again. Assemblies will now be held there regularly for the first time since March of 2019.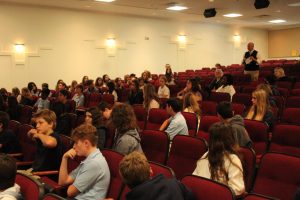 Of course, not everyone can cram into the BPAC as the School is still being cautious in regard to COVID-19. Instead, a different grade will have assembly in the BPAC each week on a rotating basis while the other grades tune in through a livestream in their A-period classrooms. It started with the eighth graders in the BPAC on November 8, and then rotated to seventh grade on November 29, and then the sixth-grade will be in the BPAC on December 6. 
"I am excited about the new system with the Barker Center because it gives new students a chance to see and experience it," said eighth grader Isabella Blount.
This will also be the first time sixth and seventh graders will be in the BPAC since joining the Middle School. That's because many other events that required the space were simply canceled or live streamed from the
building over the past year-and-a-half.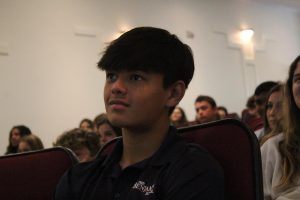 "I miss when all the grades went to the auditorium," said sixth grader Isabella Anthon.
Anthon's wait, however, will soon be over, and the opening of the BPAC is further evidence that things may be getting back to normal after the pandemic. With the campus's main performance facility open again, it may pave the way for more middle school fare such as the sixth-grade wheel performances, plays, and concerts. 
"I love the Barker Center coming back as it might give us a chance to do more band performances," said eighth grader James Tepper.
"I think it is a great idea," said STEM Coordinator Mr. Matthew Oster. "It re-installs more of a community culture."
The Barker Center coming back may certainly bring the middle school community closer together. As the School begins to come back from the dark depths of COVID-19, students and teachers alike are looking forward to moving one step closer to pre-pandemic status.
Leave a Comment