Parents Return to Campus for First Time in More Than a Year
Back-to-School Night Allows Parents to Meet Teachers and Tour Campus
Parents on campus? Yes, it actually happened on September 8 for the first time since the spring of 2020. That evening, parents gathered, en masse, to experience a day in the life of their child(ren) for the Middle School's annual Back to School Night. Normally, parents would follow their child's schedule for the night, attending their advisory period and all seven academic classes; however, Back-to-School Night (BTSN) worked a little differently this year.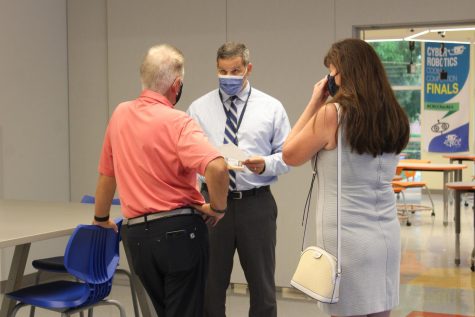 "To ensure the safety of our community, this event was modified to a casual meet-and-greet," said Head of Middle School Mr. Charles Hagy. Course descriptions, class information, textbooks, and class materials were available to view [in the classrooms].  [However], parents met teachers outside to allow for physical distancing and then toured classrooms and [the] facilities.  We asked that when parents were indoors, they wear masks."  
Because of the changes in Back-to-School Night, teachers had to find new and exciting ways to communicate with the parents about the school year. 
"This year's back-to-school night is still a bit different from our pre-COVID evenings," said sixth-grade English teacher Mrs. Denise Ponchock. "I created a year-at-a-glance slideshow for parents to watch; I put out samples of students' work, and I posted the students' elements of literature posters on the walls. At the outdoor tables, I had the main books that I teach as well as annotated student copies and student archive folders. I [also]  answered any questions that parents have about sixth-grade English." 
Teachers also welcomed the opportunity to talk with parents face-to-face. 
"Back to School Night has always been my favorite event," said Middle School STEM Coordinator Mr. Matthew Oster "It is a great opportunity to interface with our amazing parents right here on campus." 
Even new teachers were excited to meet parents and talk to them about their curriculum.  Eighth-grade history teacher, Mr. Rudolph DeVries said, "Back-to-school night is such a great experience for me.  I consider myself an extension of the parents in the classroom, and I love getting a chance to explain my approach as a teacher and receive feedback as to how I can improve. I have always taken the approach of infusing skills that will translate as students progress through their academic careers.  Note-taking, study habits, and how to engage in class discussions are essential to success at any level of education.  By the time students finish their year with me, they will be confident in their ability to manage classes with heavy content loads, and will find themselves leaning on these skills more than they could ever imagine," said DeVries.
Parents enjoyed the opportunity to learn more about their child's academics as well. 
"It was great to be back on campus!" said Dana Sterling, mother of eighth-grade student Drew Sterling.  "I enjoyed the relaxed atmosphere of an open house this year and being able to spend as much or little time with a teacher as I needed. The teacher's enjoyment of teaching shines through immediately when talking about their courses or students. I've heard great things about the eighth grade and am excited for a year of firsts and lasts." 
New parent Brandee Hoffman, mother of eighth-grade student Iris Hoffman, found Back-to-School night to be not only informative, but also welcoming.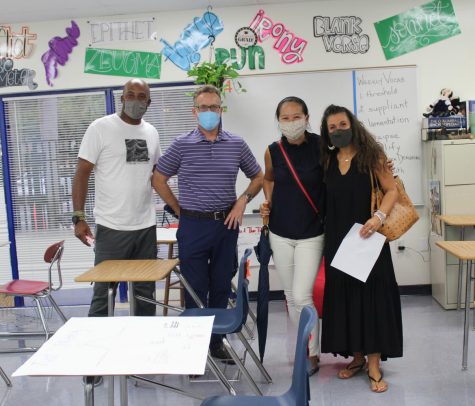 "I liked the sense of community and the social aspect," she said. "I appreciated that several teachers I met tonight are not just teaching content but also study skills, critical thinking, process, and organization. I'm excited that my child has teachers who are passionate about their subject material.  Considering the last year, the fact that Mrs. Devine & Mrs. Ponchock are hosting an optional 'Pot Luck Dinner – Mothers and Daughters Book Club' is pretty amazing and says a lot about their love of literature. This is the first Back-to-School Night I've ever attended that didn't follow the same, standard pattern. I think it's great that Benjamin tried something new and the open house aspect was refreshing," said Hoffman. 
 In a time when personal interaction is limited, TBS made it a priority to invite parents back to campus to connect with teachers and learn more about the upcoming year. 
"Back-to-School Night brings parents and faculty together to build community and solidify the relationships necessary to ensure a successful school year," said Hagy. "The positive teacher [and] parent relationships are so important in helping our children thrive here at school."
Leave a Comment