Video Production Program Lands New TV Studio
The Middle School's video production just got a whole lot better (and also a bit bigger)
After 11 years of the program not having a professional TV studio, the students now have the opportunity to reach their full potential and use the same professional equipment that is also used in the Upper School.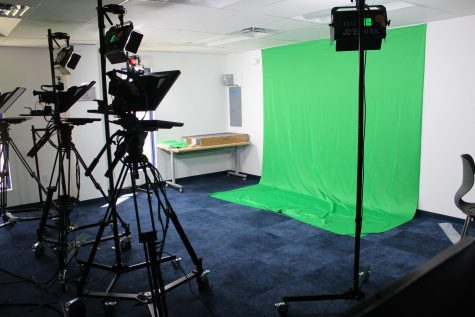 The new TV Studio is located in the room on the west side of the library, and is part of the new $380,000 library renovation designed by Library Media Specialist Mrs. Danielle Griffis.
"I wanted that connection [between the library and TV studio] because they go hand in hand," said Library Media Specialist Mrs. Danielle Griffis. "Libraries are no longer just books, libraries are media, libraries are databases, and resources and videos online, and it's also not just accessing those types of information through news outlets and YouTube, but it's also creating, [and] being a creator yourself, so I hope they work hand in hand where journalism students have more access to information and skills to find information through the partnership with the library."
The new equipment in the studio includes a professional-grade video switcher, a soundboard, several wireless microphones, camera-mounted teleprompters, new lights, and a drone.
The video production program, taught by Coordinator of Academic Affairs Mr. Nicholas Crisafi, consists of two beginner classes (one was added this year due to the demand from students) that provide students the principles of filmmaking during their first semester and then an introduction to broadcast journalism in the second semester. He also teaches an advanced course, Introduction to TV Broadcasting, that dives deeper into the finer points of editing and news media, and produces TBS News (the official news station of the Middle School).
"I just think it adds another layer of sophistication, technology, [and] excitement, said Crisafi. "When I took the students up there the other day, they were really excited to see what was there, and I think it'll inspire people and excite people to take that class."
Now, instead of having to set up a green screen and video switcher in Crisafi's classroom every time the students want to conduct a broadcast or record a virtual backdrop, they can just go into the library where all of the equipment is ready and waiting.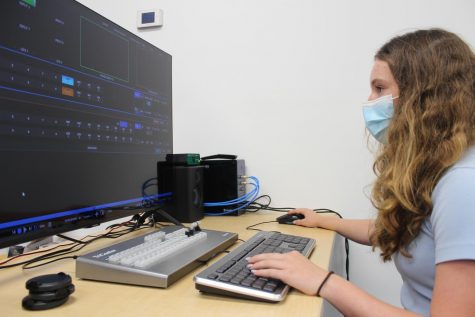 As a result, students can produce a much more sophisticated broadcast with the new space and equipment.  "[The broadcasts] will just generally look better," said eighth grader Caroline Welke, another member of the advanced video production class, "and TBS News will just be a better overall quality," she said. 
The video production students are also confident that Crisafi will help them make a seamless transition to the new equipment. "I think Mr. Crisafi is really good at teaching us things really quickly, so I think we will be able to learn [how to use the equipment] really quickly," said eighth grader Owen Olbers, a member of Crisafi's advanced Introduction to TV Broadcasting class. 
Crisafi has been preparing his seventh and eighth grade students for what will be expected in high school and now has even more resources to expand their knowledge and to help them succeed.
"The studio will allow the students to have a more authentic experience when it comes to broadcast journalism," said Crisafi. "This will prepare them well for Mr. Archer's upper school program and allow them to make that leap to the next level."
Leave a Comment