Eighth Graders Celebrated with Outdoor Moving-Up Ceremony
Moving up is a special thing in life. It can be anything from making it to the next level in a video game to getting promoted at work; but what does it mean at The Benjamin School?  Here, the Eighth-Grade Moving-Up Ceremony is a way to celebrate the class' middle school career, and a way to welcome the students to the Upper School. Due to the pandemic, the event has needed to be modified over the past couple of years.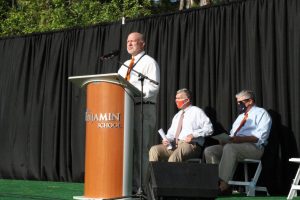 Last year, the ceremony was completely online since all of TBS was remote due to the pandemic. While it was held in Benjamin Hall, the ceremony was pre-recorded via video, and no students were present, but their pictures were shown when Mr. Hagy recognized them from the Benjamin Hall stage. The video then premiered on YouTube for all eighth-grade families to watch from home.
This year, the ceremony was in person, but it was held on the upper school football field to allow for social distancing. Students still had their quotes read when their names were called to walk across the stage, but there was no video to show the quotes and pictures of the students.
According to Head of Middle School Mr. Charles Hagy, many of the other traditions associated with the ceremony stayed the same.
"The ceremony is traditional," he said. "I have opening remarks; we have an invocation, we hear the Alma Mater, we have the student council president speak, the head of school speaks and thanks the community for their support, and the head of the upper school welcomes the students to the Upper school."
The quotes students chose this year were either an original quote made up by the student, or a quote chosen by the student that is meaningful to them. 
"[My quote was] 'Many of life's failures are people who did not realize how close they were to success when they gave up,'" said eighth grader Scott Noble. "The quote [by Thomas Edison] is about success, and I believe that I could take it to heart."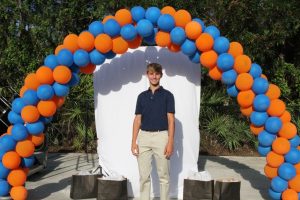 The ceremony, held under a sunny evening sky with intermittent breezes, was a fitting way to close out the year for the eighth graders. "I thought the ceremony was lovely," said History Department Chair Mrs. Anne Franzen. "We were lucky the weather was so great. It had the same feel as all the previous ceremonies," she said. 
"[The ceremony] is more of a chance for us to say 'thank you' to each other for a great middle school experience," said Hagy.
Leave a Comment