Julius Caesar Projects Teach Eighth Graders Important Life Skills
"Friends, Romans, countrymen, lend me your ears," says Mark Antony in William Shakespeare's Julius Caesar. It is one of the most famous lines written by the great English playwright, and it begins a speech that many eighth graders may memorize this year. See, the eighth graders aren't just reading Julius Caesar in Ms. Devine's English class, but they are dressing up as the characters and reciting their speeches and soliloquies. Additionally, after students finish presenting their lines, they will have a mock trial where Brutus will be tried for the murder of Julius Caesar. During the trial in each English class, the students will play the roles of the characters as well as the prosecutors, defense attorneys, judges, and witnesses. Faculty members will serve as jurors to decide which side makes the better case.
"Shakespeare's works are part of our Western literary canon, laughingly referred to as the 'Great Dead White Men's Works,'" said Devine. "It is important to know and appreciate the past because these great works have many universal truths about our shared human experience. Memorizing Shakespeare's famous lines, projecting his plot ideas and characterizations into our world in the rewritten drama skits, and participating in a trial for Caesar are excellent ways for students to dig deeply into the text and discover for themselves how contemporary and relevant many of Shakespeare's characters and plots are in their own world today." 
Many eighth graders believe these activities help them understand the material better.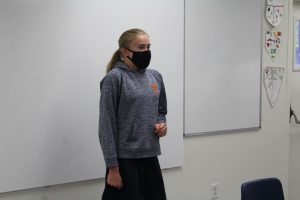 "This [speech recitation] activity helps me because I get a deeper meaning of the lines," said eighth grader Angelena Townsend. "I enjoyed studying with friends and learning about how Shakespeare was [during] his time, and how Rome was at the time. These skills can better help me in the future because it teaches me how to interpret complicated texts, which can be very useful," she said. 
This year, students are required to memorize 35 lines of Julius Caesar, specifically some of the orations in the play. The students are then required to perform the lines in class. 
"It only took me about 30 minutes to memorize the lines, as I used to do debate," said Townsend, who memorized Brutus's oration from Act 3, Scene 2. 
Although this activity might help reinforce public speaking and memorization skills for some, not all students believe that it helps them interpret the play. 
"Personally, I do not believe that this activity helps me understand the material better," said eighth grader RJ Sahm. "This is because the main focus of this activity is to memorize and perform lines, not to go in-depth with the actual meaning [of the text]." 
Another concept that students struggle with is acting out their lines. Many students are sometimes afraid of public speaking, therefore this activity could provid students more confidence in their public speaking abilities, which is an important communication tool to possess.  
"Speaking in public is terrifying for some," said Devine. "It was for me when I was in elementary school. My teachers always had a wastebasket near me because invariably, I would get sick before a declamation, but the more you do speak in public, the easier it generally becomes. It is important for all of us to be able to speak up and out for our beliefs. So, we learn to cope with the butterflies and the nervousness," she said. 
Collaborating with friends is another added benefit of these projects.
"My favorite part of this activity is collaborating with my friends and memorizing my lines with them," said Sahm. "I personally really enjoyed studying with friends and family," he said. 
Of course, deciphering Shakespeare's puns and wordplay in Old English may be difficult, but it has its benefits. 
"I think that this activity could indeed benefit us in the future," said Sahm, "specifically with reading ancient texts and complicated English. Many of these skills can be used in professions related to law."
Leave a Comment