Eighth Grader Takes Home Spelling Bee Title
Participating in a spelling bee "takes confidence, fortitude, and determination" according to sixth-grade English teacher Mrs. Denise Ponchock.  Eighth grader Vanessa Zito must possess all three as she took home the trophy in this year's middle school competition on February 23. After runner up and fellow eighth grader Rachael Rotter missed the word "supplementary," Zito spelled "propagandize" to claim the title. 
"Since I have been trying to win the bee for a few years now, I was very excited that on my last opportunity, I achieved my goal," said Zito, who also made it to school bee last year.
"I studied for the spelling bee for a little bit each day leading up to the event," she said. "I also prepared for longer the day prior to the bee."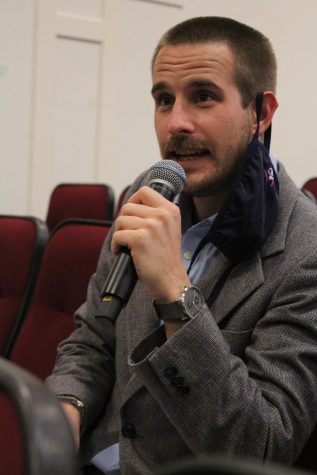 For the first time ever, the bee was live streamed via Zoom, meaning the middle school students and TBS community were able to watch it. This was a result of the coronavirus as the School did not allow students to gather in the BPAC and watch the competition. Instead, the contestants sat in socially distanced chairs in front of the BPAC stage and approached a microphone to spell their given words. 
"My mom, dad, and grandparents emailed me right after I won, congratulating me," said Zito. "Along with my friends, I noticed that many people that I didn't know congratulated me as well! I thought this was very kind and generous of them to do."
Although Rotter finished as the runner up, she was grateful for the experience. "I am really happy that I got to experience what it's like being in the spelling bee," said Rotter, a first-time school bee finalist. " I was nervous at first, but I felt a little better when I realized I was doing alright."
With the bee broadcast live to the TBS community and having remote competitors this year, the logistics were a little more challenging to figure out, but Academic Dean Mr. Charles Maddox was up to the task. 
"I was very comfortable with technology, and I had great help from Mr. Johansen and Mr. Glendinning," he said.
Maddox's responsibilities, however,  went beyond just the technological aspect of the competition. 
"I am the spelling bee coordinator, [so] I am responsible for sending study lists to students, giving English teachers the pronunciation guide, scheduling the school-wide bee, finding judges, and helping the winner register for the regional bee," he said. 
Still, having the bee broadcast via Zoom was a little off-putting for some contestants.
"I found it weird [that the bee] was on Zoom because it was like there were two different spelling bees going on at the same time" said seventh grader RJ Pierman, one of the competitors. "The Zoom people were at home, so it was as if they were doing it differently," he said.
The bee went off without a hitch, though, which the students appreciated.
 "Although some students were online and participating through Zoom this year, I feel as though the middle school faculty did a great job putting the event together," said Zito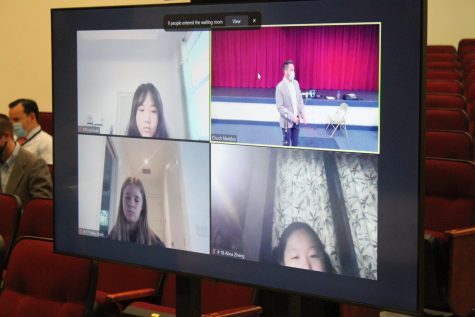 With the bee being online this year, the three online competitors – Jia Guan, Haley Roth, and Alina Zheng – were expected to uphold the honor code and not look up the words they were given. 
"I did not feel tempted to cheat because I think it was not fair for other participants, and cheating can have massive consequences," said eighth grader Guan. 
According to the bee's official pronouncer and seventh-grade English teacher Mr. Nathan Ginnetty, all of the competitors performed admirably.
"This year's spelling bee contestants did well to 'steel their nerves' as they competed with each other in front of a live – albeit mostly remote – audience," he said. 
From March 22-26 where the enrolled students take an online test, the top 15 students who rank the highest on the test will meet in person on a later date. Zito plans to use the "Words of the Champions" spelling list from spellingbee.com. The list consists of three difficulty level bees in total adding up to around 20 pages. Each page has around 100 words. "I will set my goal to master one page each day. At this rate, I will hopefully get through the majority of the lists and be as prepared as possible," said Zito. Even though Vanessa has mixed emotions, she is still very excited for this experience, "I am very excited and nervous at the same time for the regional bee. Since I have never had this opportunity before, I will try and seize it as best as possible. I am excited to represent my school, and nervous in my hopes to do well" said Zito.