Pandemic Has Not Slowed Community Service Efforts
Community service is an important part of the culture at The Benjamin School. The Benjamin School website states, "The Community Service program at The Benjamin School supports the School's mission by inspiring students to develop personal responsibility, concern for others, and a commitment to serve society. The program also reinforces the School's character traits and strives to teach children how to apply knowledge and interactive skills that address important school and community needs." 
Despite the various difficulties that COVID-19 has imposed on students and faculty, advisory classes are still conducting community service in a plethora of creative ways. For example, Middle School Academic Dean Mr. Charles Maddox is organizing a luggage drive.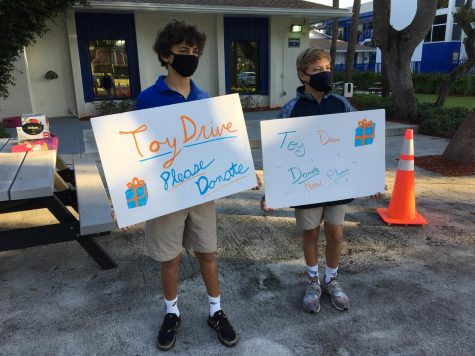 "We are doing a project in which we are collecting luggage for foster children, for the Friends of Foster Children organization," said Maddox, whose advisory is working in conjunction with that of middle school math teacher Mrs. Lindsey Tanona. They and their students felt that foster children may need luggage as they may move frequently between different homes. 
Friends of Foster Children is a non-profit organization that is The Benjamin School's community service partner this year, and its mission is, according to its website, is "fostering happy childhoods by enriching lives impacted by foster care." The outfit also strives to provide services, support, and education to overcome the effects of child abuse and neglect while arranging opportunities that enrich the lives of children and the families who foster them.
"We are giving them carry-on size luggage or duffel bags because they move houses quite a lot and do not have anywhere to put their belongings," said Maddox.
The collection is a meaningful one which is not lost on those involved.
"Community service is important to students and to TBS because it shows how we need to express gratitude to other people and understand that other people might not have as much as we do," said eighth grader Darrow Becker, one of Maddox's advisees.
"The vast majority of The Benjamin School students have quite a lot and are very blessed, and not everyone in the world is like that," said Maddox. "It is important that we share some of our blessings and resources with other people in the community."
Community service projects enable students to contribute their time and efforts towards helping their community. This is especially important now as many families struggle, both physically and financially, due to COVID-19.  Participating in community service instills in students a desire to help others that they will hopefully carry with them for the rest of their lives.
"Community service is a great way to give back to the community, and there is so much that is learned through giving and helping others," said Dean of Students Mr. Jeffrrey Cavallo. "It is a great, life-long lesson. It has always been something that Mr. and Mrs. Benjamin had wanted TBS students to do."
Similarly, Cavallo's advisory class plans to collect school supplies for donation to Friends of Foster Children in the spring. They hope the pencils, notebooks, erasers, highlighters, and rulers can benefit the students of all ages who are served by the organizations. Meanwhile, Math Department Chair Mrs. Cathy Hansen's advisory class has taken on several initiatives to benefit Friends of Foster Children.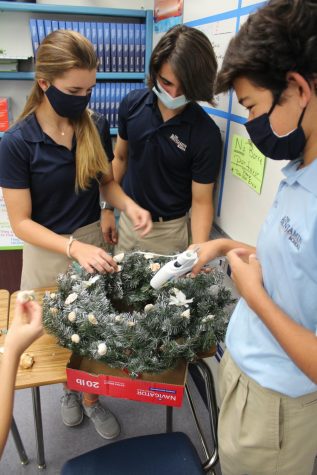 "So far we have created the pumpkins for the foster families, and we have created homemade holiday gifts for families so they can celebrate," said Hansen, referring to the holiday wreath they decorated and donated in December. Now her advisory class hopes to conduct  a thorough beach clean-up. The students will visit Juno Beach and spend several hours picking up any plastic items or garbage that they see. "We clean up miles and miles of the beach. We will be social distancing by staying six feet away from each other outside, and everyone will be wearing gloves and using sticks to pick up the garbage. It is important for students because it teaches them to give back to the community. The more you help others, the better off you are," said Hansen.  
Even with the pandemic still affecting everyday life, TBS remains committed to helping others in the community. The partnership with Friends of Foster Children has been a successful one thus far, helping families in need while providing purposeful opportunities for TBS students to care for others.  So the next time that you want to help improve your community, or just do a good deed, head down to your local beach and pick and help clean up, or donate to a positive organization, such as friends and foster care. 
According to the Friends and Foster Care website, "Friends of Foster Children is the connection between the foster system and its families, filling their need for support, services, education, and basic needs. We are the change agent helping families to solve challenges in order to focus on fostering happy childhoods."
Leave a Comment