"Among Us" Becomes the Newest Popular Game Among Teens
If you've spent any time on social media lately, you've probably seen memes or clips of colorful Teletubby-like figures. These figures are avatars in Among Us, an online, social deduction video game that has taken over the Internet. 
Published by InnerSloth, a video game developer, Among Us is a game of strategy where users can play with four to ten individuals. You play as either a crewmate or impostor in either a spaceship, a sky headquarters, or a base on a different planet. But one (or two or three, depending on what the host chooses) of the crewmates is secretly a parasitic shape-shifting alien, also known as the "impostor," that wants to eliminate all of the crew members before they reach home. The problem is – the impostor looks just like all of the other crewmates. The impostor can sabotage the ship, sneak through vents, deceive other players, and try to frame others.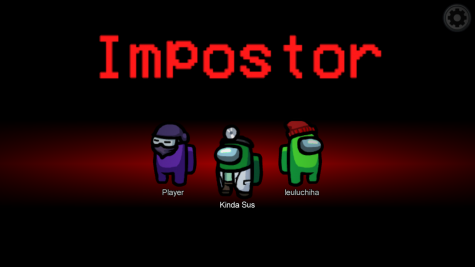 As the impostor goes on his hunt to eliminate everyone, the crewmates must finish certain tasks, and cannot talk to each other unless a dead body is reported or the emergency meeting button is pressed. The surviving crew can discuss and debate who the impostor(s) is/are, and vote them out. If they successfully discover the impostor(s), they win. However, if they vote out another crewmate, everyone goes back to doing their tasks and fixing up the place, until another dead body is found, and they vote again.
The game, however, has not always been as popular as it is today.
Released in 2018, the game had 30 – 50 concurrent players, skyrocketing to around 1.5 million concurrent players in a matter of months due to the popular video-game streaming service Twitch. Popular streamers began to stream the game, and it went from Twitch to TikTok to YouTube and so on until every teen knew the words "Among Us." Another reason why the game may be so popular is that it is also free to play via the Apple App Store or Google Play, and it is also available on the Windows gaming platform Steam for a nominal fee of $5.
Among Us was also scheduled to have a sequel called Among Us 2, but it was canceled in late September as the developers saw how popular their first game had become. According to an article on inverse.com, InnerSloth said, "All of the content we had planned for Among Us 2 will instead go into Among Us. This is probably the more difficult choice because it means going deep into the core code of the game and reworking several parts of it." 
So while a sequel may eventually be in the works, right now the company and its fans are focusing on the original – the first computer-based social deduction game to gain immense popularity. Among Us, however, may have been inspired by its predecessors. 
 For example, Ultimate Werewolf is a popular card game which is a reinvention of a similar game, Mafia, created in 1987. Without going deep into explaining the game, Werewolf can be played with 5 to 75 players, where each player is a villager or a werewolf. The villagers must "hunt down" the werewolves by figuring out which players have the werewolf cards. The werewolf(s) must deceive the other players by lying and pretending to be villagers.  Among Us is very similar, and the game has had a large impact on its fans, especially teenagers.
"It's a fun game that introduces thinking and strategy," said eighth grader Kenny Tepper.  
"I like the game because it's a mystery game, and it incorporates a lot of thinking and skill in it," said fellow eighth grader Sage Sorenson.
COVID-19 may also have helped the game's popularity. A lot of people have had to stay home, and, with not much to do, video games have been a favorite pastime of teens. 
However, is the game appropriate for middle school-aged children?
The answer is yes and no. The upside  is that players have to use their brains to figure out who the impostor is, which can strengthen their critical thinking skills. The main concern of the game, though, is that the player is required to lie whenever they're an impostor. This may teach them to become conditioned to lying, and, as a result, turn them into very good liars. 
Foul language and inappropriate usernames in the game may also be a concern, along with mild violence. Once a player is eliminated, only half of their body lay on the floor, with a single large bone sticking out from the avatar's waist. The game is rated Everyone 10+ by the Entertainment Software Rating Board (ESRB) for fantasy violence and mild blood. The Apple App Store rates Among Us as 9+ for infrequent mild cartoon/fantasy violence, and horror/fear themes. The website commonsensemedia.org recommends people over the age of 11 should play this game. In short, the game should be okay for pre-teens, but it truly depends on what the parent thinks is best for their child.
Now, everyone is asking what's next for the game. 
InnerSloth has many plans for the game in the future. One of their biggest plans is to release Among Us to gaming consoles, such as Xbox and Playstation. In addition, they are planning to add a friend request system, in which users can befriend fellow players and see when they are online. There are many more ideas InnerSloth has that have the potential to become future updates, such as bigger lobbies (twelve to fifteen players), more game roles (aside from crewmates and impostors), and improved game moderation (such as a report system to report players that cheat).
 These updates may expand the game's fanbase, but its surging popularity already has people talking about it and playing it daily. It seems to have taken the place of another extremely popular online game – Fortnite. However, can it sustain its fanbase and keep evolving so it continues to engage users? Only time will tell, but for now, Among Us is the game to play and seems here to stay.
View Comments (4)