One Family's 9/11 Story
For most TBS students, 9/11 is a tragic event that they have heard about from their parents, relatives, and teachers. As it occured in 2001, before any current TBS middle school students were born, there are only the headlines, footage, and stories to fill in the details of that terrible day. However, for some Benjamin families, like the Haueisen's, 9/11 hits close to home. 
"[September 11] was a really, really scary day for lots of people," said eighth grader Rachel Haueisen. "My mom was in her office, which was a few blocks away from the Twin Towers. My dad was on the other side of the Twin Towers, [also] several blocks away from it, so they were both super close. I'm just happy that my parents knew where to go and weren't anywhere near where they could have gotten hurt."
"I was working downtown – I worked in a building on a very small street called Old Slip, and I was on the 16th floor of the building," said Mrs. Kate Haueisen, Rachel's mother, who at the time worked as an analyst for Goldman Sachs in Manhattan. "After the first plane hit, we didn't know what had happened. There was all this paper flying through the air outside, and I remember my boss asking if there was a ticker tape parade scheduled for that day" she said.
Our country was attacked by al-Qaeda terrorists on September 11, 2001, and thousands of Americans died that day on U.S. soil. The twin towers of the World Trade Center in New York City were struck down by two hijacked airplanes. The Pentagon in Washington, D.C. was also rammed by a third hijacked aircraft. Inside the fourth hijacked plane, the passengers managed to fight back against the terrorists, and the plane crashed in a field in Pennsylvania. Approximately 3,000 Americans died on that horrific day. 
For Mrs. Haueisen, the moments after the attacks were a blur of disbelief, chaos, and confusion.
"After the second plane hit, we evacuated our building and got on the subway," she said. "I wanted to find my boyfriend at the time, who's now my husband, so I got off at 72nd street to try and find his office. It was very quiet when I got out there, and cell phones weren't working, we couldn't get through to anyone, we had no information, and there was this guy on the street yelling…'It's the twin towers, it's the Pentagon, what's going to be next?', and I didn't know what he was talking about. I finally got through to my dad, and he told me what happened, [but] still I couldn't process it. 'On purpose?' I said," her voice shaking with emotion, "and he said, 'Yes.'
Fortunately, Mrs. Haueisen was able to eventually find her boyfriend, Mr. Tov Haueisen.
"I started running to get closer to Tov's office, and I had been there a thousand times, but I couldn't find it and I didn't know where it was. Finally, I was able to find his office and call him from the landline in the lobby. He came downstairs and security was actually trying to keep us away from each other at first, but he sort of blocked a security guard and we just walked outside. You could see all the way down 6th Avenue – it was actually a gorgeous day, but you could see all the smoke and people covered with stuff. We went back to Tov's apartment, we turned the news on, and we watched [the replays of] the twin towers fall.
That day was not only harrowing for The Haueisen's because they were so close to ground zero, but because their lives were also in danger.
"I must have been on one of the last subways, and I learned later that the reason they were rushing all of the subways northbound was because they were afraid the tunnels were going to cave in."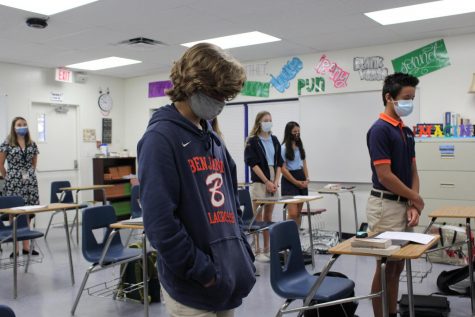 To honor those who did lose their lives on 9/11, each year The Benjamin School honorably acknowledges Patriot Day with a formal remembrance. This year, the event was a virtual one with students watching from their classrooms and their homes. Head of Middle School Mr. Charles Hagy began the morning with a digital presentation about the events of that day and their importance to the nation. The Benjamin School remembered and honored Patrick Aranyos '93 and Lindsay Morehouse '96, two alumni who died on September 11, 2001. Eighth grader Hanna Soffan read Morehouse's biography while fellow eighth grader Chester Coles read Aranyos's. History Department Chair Mrs. Anne Franzen then played a video of the Perry Feyk Project (upper school English teacher Mr. Perry Feyk's band) performing a 9/11 tribute song from 2018. A moment of silence was then observed across the school in honor of the victims who died, and the brave heroes – firefighters, police officers, medics, and civilians – who gave their lives trying to save others.
"My dad does not like to talk about it because one of his really close friends died in one of the airplanes," said Rachel. 
People all over the United States observe September 11. It is a day of mourning, remembering, and gratitude for those who responded and did what they could to help those who were injured or in danger. For The Haueisens, 9/11 is a personal and tragic reminder of the attacks.
"We talk about it, my sisters usually cry a lot – we all cry a lot," said Rachel. "We have gone up to New York and seen the memorial. It is a really sad day."
However, there is hope that springs from such tragedy.
"One of the most amazing things about [9/11] is that New Yorkers really came together," said Mrs. Haueisen. "People reached out to each other, and checked on each other."
*Special thanks to Rachel Haueisen for interviewing her mother for this article.
View Comments (1)