Apple's iOS 14 Update is a Sleek Makeover
Apple, the company which is ever changing and evolving, recently excited its users with its latest release: iOS 14.  The recent operating system update, released on September 16, is one of the most significant updates for Apple's iPhone and iPad. New widgets, a new Siri, and many more features will make your iPhone a bit more fun (and possibly) useful. If you have an iPhone 6 or iPad Air 2 or newer, you can download this update on your device and utilize these new features. 
To begin, the iPhone's homescreen hasn't really changed since 2007, but that is not the case with iOS 14.  The new widget feature allows users to add  pictures from one's camera roll to the homescreen. In addition, consumers can turn apps into widgets for easy access and also customize those widgets. For example, if you want to turn Apple News into a widget, you have the option of getting the day's top stories or news by topic.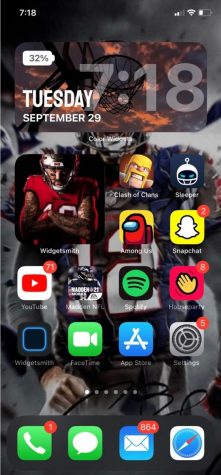 "The [widgets] make my phone look good," said seventh grader Caroline Smith.  "Whenever I go on my phone, I am happy since, finally, my phone looks good with pictures." 
The only drawback about widgets is that they do take a while to make. 
"They took me about two hours out of my day to set up pictures on my phone," said seventh grader Noah Crossman. "They are cool, but a lot of work."
Widgets are not the only thing about iOS 14 that is cool, but it is probably my favorite thing about the new update.
Apple has also created a new App Library feature with which Android users will be familiar.
The app library helps organize user's apps by alphabetical order or category. 
"It helps me organize my apps by what category I use them – gaming, social media, and many other apps that my phone categorizes them by," said eighth grader Tommy Sini. The feature is not easily accessible as you need to scroll to the right to find the App Library, but it is a useful feature.
Siri, the virtual assistant which can help you make calls, look up information on the Internet, or navigate apps on your phone, has also received an update in iOS 14. While you can still access the feature by holding down the side button, Siri no longer shows up as a black screen, but now a floating orb that appears at the bottom of the screen. This can be a bit off-putting as users may accidentally access Siri and not know it since the screen no longer goes to black. 
iOS 14 is, in my opinion, the biggest update Apple has ever had, and it may not change for the next couple of years. Apple is supposedly coming out with the iPhone 12 later in October, so while iOS 14 is receiving all of the hype right now, consumers' attention may soon turn to the latest phone from Apple's repertoire.
Leave a Comment