60th Anniversary Celebration Slated for September 24
The Benjamin School was founded in 1960 by Marshall and Nancy Benjamin. Their goal was simple: they wanted to create a safe, challenging, and nurturing place where children could learn and grow. Many years have passed since then, and students and faculty alike have made this dream a reality. The sixtieth anniversary has finally arrived, so what is TBS doing to celebrate?
"Prior to COVID, we had planned several events associated with our 60th anniversary, and to celebrate our new Head of School," said Mr. Juan Carlos Fanjul, the School's chief development officer. "With in-person events canceled, we decided to hold a "live event" to commemorate this special chapter. We have put together a retrospective video of our first 60 years," said Fanjul, who organized the celebration. "You will see Susy Benjamin, daughter of founders Nancy and Marshall Benjamin, as well as Jack and Barbara Nicklaus, look back at our humble beginnings as North Palm Beach Private School." 
The event will take place on Thursday, September 24 at 10:00 a.m. Students and faculty will be able to watch from their classrooms or at home, and the link was sent to parents and members of the broader TBS community as well.
Benjamin's 60 years of history is ingrained in the culture of the School, from the preservation of trees and natural areas on both campuses to presentations made by division heads to filling in new hires every year.
"All teachers receive a history lesson on Benjamin when hired," says Academic Dean Mr. Chuck Maddox. "We learn about Mr. and Mrs. Benjamin, [the] early days at the school, and how we're continuing their legacy." 
Many of the students are looking forward to the event as well.
"I think that the upcoming live stream will be as good or maybe even better than if it were to be in person," said fellow eighth grader Darrow Becker. "The 60th anniversary is a very important event, and the school has done a great job of managing online learning so far." 
"I think that it's a great experience in welcoming a new head of school," said eighth grader Vanessa Zito. She also feels that the transition to a remote assembly will work well. "I think that the message in welcoming [Mr. Faus] will still be there."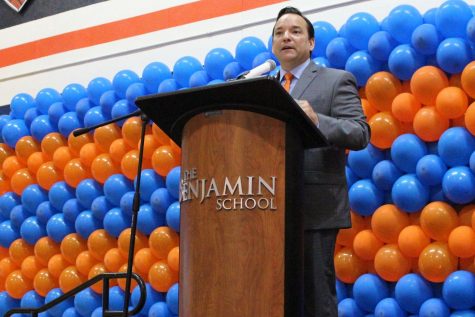 After sixty years of learning, curiosity, and adventure, Benjamin is still going strong. This anniversary is simply a mark in Benjamin's history that will, hopefully, continue for many more years. 
"Fast forward to 2020 and there has been so much growth with two campuses and more than 1,000 students," said Fanjul. "I feel history takes place every day!"